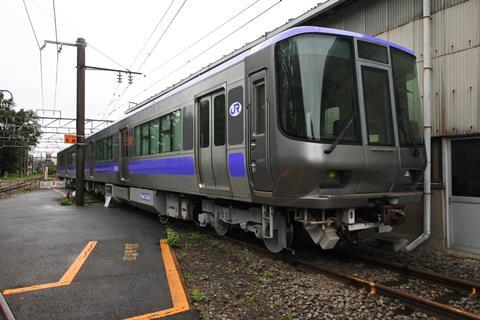 JAPAN: Railway Technical Research Institute has started test running with a prototype multiple-unit which can work as a conventional or battery EMU or using a fuel cell powerpack.
Converted from an older 1·5 kV DC EMU, the test train comprises a 34 tonne motor car and 29 tonne trailer vehicle. Each car is 19 760 mm long and 2 950 mm wide. It is able to operate as a conventional EMU when running under overhead catenary, or as a battery unit off-wire, with or without the fuel cell in use to trickle-charge the batteries.
Two polymer electrolyte fuel cells are contained in an underfloor module 2 600 mm long, 2 655 mm wide and 720 mm high, which weighs 1·9 tonnes. Hydrogen is stored in four high pressure cylinders at 35 MPa, with a capacity of 180 litres, giving a range of 72 km.
As well as the fuel cells, the test train has been equipped with a silicon carbide traction inverter pack that is 25% smaller than the one originally fitted, and a 540 kW Li-ion battery that is around 20% smaller than its conventional equivalent but has around 50% more capacity.
The two fuel cells can each produce a maximum of 90 kW at 200 V to 350 V, which is converted up to 700 V to feed the three storage batteries. This in turn is stepped up to match the 1·5 kV DC that is drawn from the overhead line.
The four 95 kW traction motors provide a maximum acceleration of 0·7 m/s2, and an electric braking rate of 0·86 m/s2.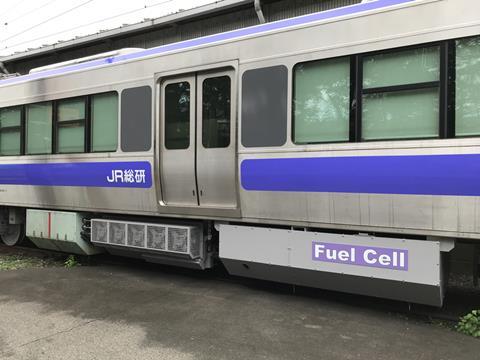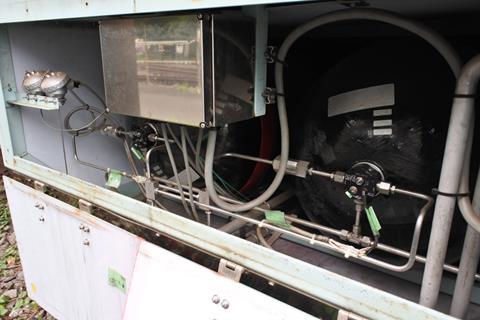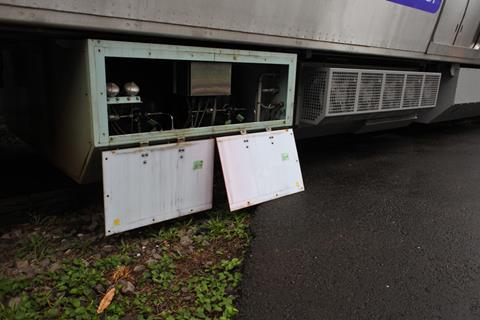 Photos: Akihiro Nakamura