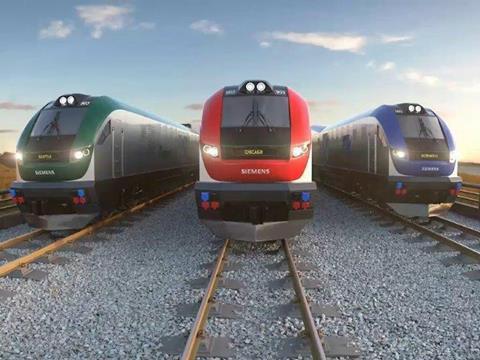 USA: Illinois Department of Transportation announced on December 19 that it had selected Siemens for a contract to supply approximately 35 diesel locomotives with maximum speed of 200 km/h.
The deal has still to be finalised, but a notice of intent has been issued by IDOT, which is leading a joint procurement on behalf of Illinois, California, Michigan, Washington and Missouri.
The Federal Railroad Administration has allocated $808m to fund a 'next generation' passenger fleet to operate inter-city services in the five states. As well as 35 locomotives, this includes 130 double-deck coaches ordered from Sumitomo and Nippon Sharyo in a process led by California Department of Transportation.
The Siemens diesel-electric locomotives would have Cummins QSK95 engines meeting Tier 4 emissions standards, and would be manufactured along with 'all of their component parts' in the USA. 'This award creates jobs, spurs economic growth and further lays the foundation for a sustainable, long-term passenger rail network in the United States', said federal Transportation Secretary Anthony Foxx.
Michael Cahill, President of Siemens Rail Systems USA, said 'leveraging Siemens' proven rail expertise and technology, we look forward to building the most energy-efficient, advanced technology, diesel-electric locomotives in North America', which will be assembled in Sacramento.
Outside the Northeast Corridor, Amtrak operates 175 km/h services on a 130 km section of the Chicago - Detroit corridor, and it is envisaged that 80% of the route will be suitable for 175 km/h by 2015. A 24 km section of the Chicago - St Louis corridor has been upgraded for 175 km/h, and infrastructure works now underway will permit 175 km/h operation on about 75% of the corridor by 2017; studies are underway into ways of raising speeds on the remainder of the route.