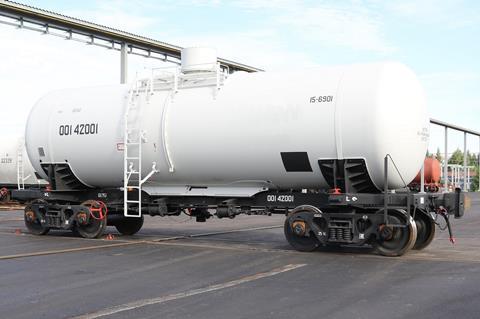 RUSSIA: 'Tank cars for transporting concentrated nitric acid are among the most technically advanced products in our portfolio', said Deputy CEO for Commerce & Marketing Boris Myagkov when United Wagon Co announced an order to supply fertiliser producer EuroChem with a batch of 14 Type 15-6901 concentrated nitric acid tank wagons.
The wagons have significant differences to other models on the market, with 25 tonne axleload bogies and a capacity of 75 tonnes or 54·78 m3, 33% more than older designs.
Because of the hazardous nature of the load, the tanks are made from AD0-grade aluminium supplied by Arconic SMZ. This offers guaranteed physical characteristics and a performance rating 40% higher than the rolled stock used in standard designs.
Specialist company Sespel undertook friction stir welding to reduce the likelihood of joint defects, minimise the environmental impact and increase joint strength and flexibility by 10% compared to the original material.
'This partnership has allowed us to develop effective rolling stock that can respond to the new market realities and meet the high standards of the transport industry', said Myagkov.
The airtight discharge system is lined with an acid-resistant polymer and the valve is equipped with a safety membrane, ensuring the load is isolated from operating staff and the environment.
There an the option to install a radar sensor to provide accurate contact-free measurement of the fill level at a wide range of temperatures in a chemically-active environment.
The wagons have an expected service life of 40 years, compared to 20 years for current mass-market designs. The Type 18-9855 bogie is expected to offering maintenance intervals of up to 1 million km or eight years compared to 210 000 km or two years for older designs.
Announcing the contract on April 20, UWC said around 200 wagons dating from the 1980s were still being used to transport concentrated nitric acid in the 1 520 mm gauge region. These tank cars are on average 32 years old, and 80% of the fleet is approaching life expiry while the remaining vehicles are 'economically and environmentally obsolete'.