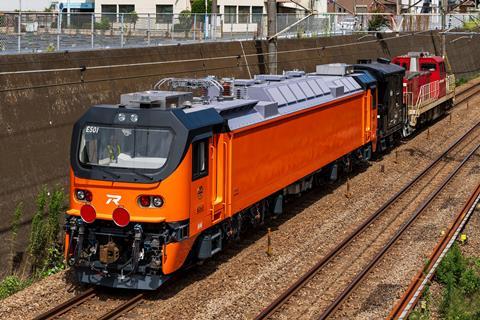 TAIWAN: Japanese manufacturer Toshiba has begun testing the first of 68 Class E500 electric locomotives ordered by Taiwan Railways Administration to haul inter-city passenger and freight trains.
In October 2019 TRA awarded Toshiba Infrastructure Systems & Solutions a NT$11bn contract to supply the 1 067 mm gauge six-axle 25 kV 60 Hz electric locos, and production is underway at the manufacturer's Fuchu plant in Japan.
The 140 km/h locos are designed to withstand typhoon-force winds, the humid rainy season and temperatures above 40°C. Features include 4G communication equipment supporting automated fault diagnostics, and Saft backup batteries with nickel-based MRX cells which are not susceptible to the 'sudden death' that can affect lead-acid batteries.