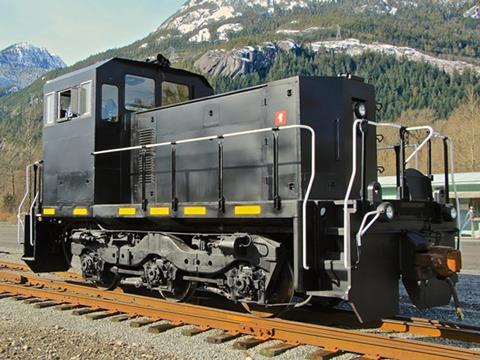 CANADA: North Vancouver-based Tractive Power Corp has sold its initial TP56 three-axle industrial shunting locomotive to Parish & Heimbecker Ltd. The locomotive is to be used at P&H's site in Cloverdale, British Columbia, where it has been in demonstration service since May.
The TP56 is intended as a 'railcar mover' for shunting wagons in industrial sidings. It is based on a cut-down EMD SD40 frame with a Caterpillar C9 industrial diesel engine, and is designed to use off-the-shelf industrial and railway components and to be serviced on-site.
'We are pleased and impressed with the performance of the TP56 within our facility', said P&H Production Manager Dustin Stewart. 'It has proven to be robust and reliable. The Tractive Power team has been helpful and responsive in tailoring the locomotive to our specific needs.'
Announcing the sale of the first locomotive on December 9, TPC founder and President Frank Donnelly said the manufacturer was now 'moving ahead with a build programme for additional units'.