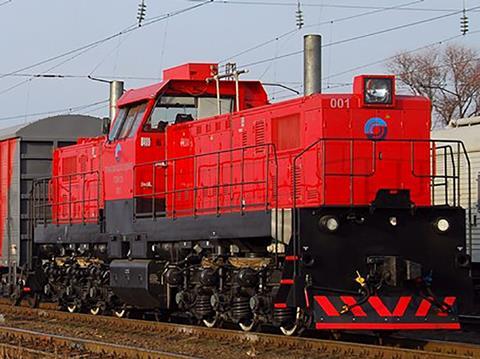 RUSSIA: Transmashholding's Bryansk Engineering Plant has completed 300 h of test running with its prototype TEM33 twin-engined shunting locomotive. This is based on the manufacturer's TEM18DM design, but has two 571 kW Caterpillar C18 engines with MSV Elektronika control systems. The engines can operate individually or together, to reduce fuel consumption and extend engine life.
Transmashholding said the tests have demonstrated that a single TEM33 could replace two older ChME3 shunting locomotives, and enable the maximum weight of trains handled by hump yards to be increased from 5 000 to 6 900 tonnes.
During the tests the six-axle 100 km/h locomotive's fuel consumption was 10% lower than the locomotives currently based at the Bryansk-II depot, with emissions reduced by 20%. The cab also offers better driver comfort and improved sound insulation.
The TEM33 is scheduled to begin acceptance and certification trials at a test centre by the end of this year.