BRAZIL: Mining company Vale has ordered three Wabtec FLXdrive battery locomotives to replace diesel traction and is to collaborate with the supplier to investigate the use of ammonia as a potential replacement for diesel fuel.
Wabtec will build the FLXdrive battery locomotives at its plant in Contagem for delivery in 2026. They will be used in conjunction with diesel locomotives on the Estrado de Ferro Carajás, where three or four diesel locos currently haul 330 wagon trains carrying 41 000 tonnes of iron ore.
They will replace the two 'dynamic helper' diesels which are used to pull trains uphill for 140 km in Açailândia, working with diesel locos to form a hybrid system regenerated energy to be recovered and reused on the section of the route where fuel consumption is the highest.
Wabtec estimates that the FLXdrive locomotives will save 25 million litres of diesel per year and reduce carbon emissions by approximately 57 000 tonnes.
The study into the use of ammonia as an alternative fuel will initially be carried out as laboratory tests over the next two years to validate performance, emission reductions and feasibility.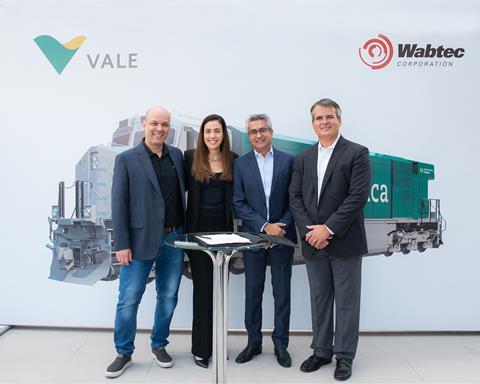 Wabtec said ammonia would allow a longer range than other carbon-free fuels, and has a high-octane rating and an established large-scale distribution infrastructure.
'Initially, we are maximising energy efficiency, replacing the diesel locomotives in the dynamic helper with battery ones, but the idea is that, in the future, the other locomotives on the train can be fuelled by ammonia', said Vale's Director of Energy Ludmila Nascimento on July 13. 'This agreement is the first of many that we are seeking in order to accelerate the decarbonisation of our railway operation.'