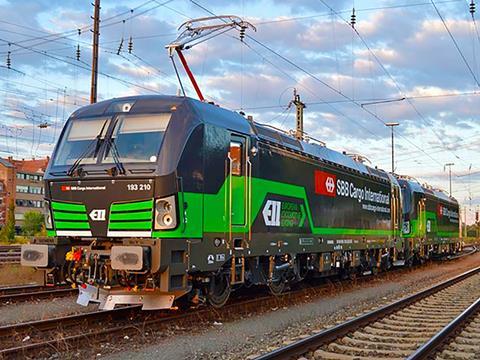 SWITZERLAND: Landesbank Baden-Württemberg subsidiary SüdLeasing has awarded Siemens Mobility a contract to supply 20 Vectron multisystem electric locomotives which will be operated by SBB Cargo International under a long-term leasing plan with a flexible term.
The order announced on July 22 includes a full-serve maintenance agreement with Siemens Mobility and an option for 20 more locomotives.
The 6·4 MW locomotives are scheduled to be delivered from the München-Allach factory between the end of 2019 and mid-2020, in time for the opening of the Ceneri Base Tunnel in December 2020.
They will be equipped with ETCS and national train control systems for operation on the north–south Rhine-Alpine Corridor in Germany, Austria, Switzerland, Italy and the Netherlands.
'With the expansion of our Vectron fleet, we are almost completely replacing our old Re620 and Re420 fleet, which was designed exclusively for service in Switzerland, and are focusing on an efficient, state-of-the-art multisystem locomotive fleet that will be an important building block for us in view of the opening of the Ceneri Base Tunnel', said Sven Flore, CEO of the SBB Cargo International joint venture of SBB Cargo (75%) and Hupac (25%).