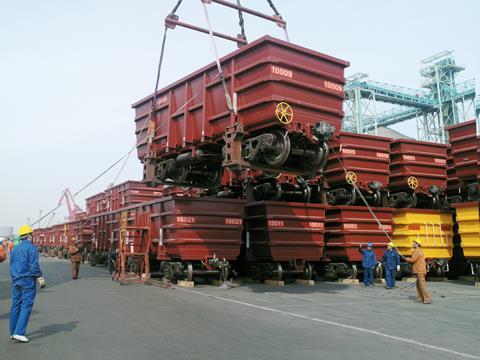 Austria: Nacco has supplied Rail Cargo with 26 Tadns wagons with stainless steel bodies and light bogies.
Brazil: Rumo ALL has awarded Knorr-Bremse a contract to modernise and maintain for 15 years the braking systems on 8 500 sugar cane wagons.
Czech Republic: XTR Logistic has purchased 11 ex-SNCB Class 12 dual-voltage electric locos which are to undergo a complete overhaul by MŽO and will then be offered for lease or sale.
Egypt: CRRC Tangshan has delivered 211 stainless-steel bodyshells for first and second class, dining and VIP coaches.
France: Duro Dakovic has won an 81m kuna contract to supply Uacns cement wagons to a French customer.
Alstom has awarded Faiveley a €15m contract to supply HVAC and braking systems for 35 eight-car MP14 rubber-tyred trainsets for the Paris metro.
Germany: Braunschweig transport authority RGB has placed a €23m order for four more Alstom Coradia Continental EMUs for ENNO services, which will take the fleet to 24 units from Q3 2017.
Transdev has placed a €115m order for four Alstom Coradia Lint 54, five Lint 81 and 19 Lint 41 DMUs which Bayerische Regiobahn will use on Dieselnetz Augsburg I services from December 2018.
Rhein-Ruhr transport authority VRR announced on March 17 that it had selected Stadler to supply 41 EMUs and maintain them for 30 years. They are to be deployed on S-Bahn routes from December 2019, when a new operator is scheduled to take over under a contract which is to be tendered this year.
India: Promoter Delhi Metro Rail Corp and CRRC Nanjing signed a MoU for the supply of 19 four-car trainsets for the Noida metro on March 17. They are to be delivered by May 2017 at a cost of Rs8bn.
Alstom, Bombardier, Hyundai-Rotem, Kawasaki, Hitachi and CRRC have expressed interest in supplying rolling stock for the Thiruvananthapuram and Kozikhode metro projects.
International: A settlement was reached in February regarding the order for 24 Stadler KISS EMUs which Russia's Aeroexpress could no longer afford following the fall in the value of the rouble. Aeroexpress will now take 11 units with an extended credit period of 20 years. Stadler has supplied five EMUs from the original order to Azerbaijan's ADY, and eight unfinished units are to be sold elsewhere.
Iran: RAI has signed an MoU with Hyundai Rotem and Marubeni for the supply of 150 locally-built railbuses.
Ireland: CRRC Taiyuan is to supply 30 aluminium-bodied 914 mm gauge wagons to peat company Bord na Móna.
Israel: ISR has exercised an €106m option for 60 Bombardier Twindexx Vario coaches to be delivered from March 2017 to July 2018. It has also called tenders for the supply and maintenance of 60 double-deck EMUs.
Kazakhstan: Development Bank of Kazakhstan has completed its first rolling stock transaction meeting Islamic Ijara leasing requirements. The 1·1bn tenge 1-year deal covers 113 LPG tanks for Eastkomtrans.
South Korea: Hyundai Rotem is to supply 40 trainsets to Busan metro Line 1 under a 52·8bn won contract.
Myanmar: On March 4 Rites signed a contract to supply 18 locos to Myanma Railways. The 1350 hp metre-gauge diesel-electrics will be manufactured by DLW Varanasi.
Poland: Tramwaje Elblskie has paid €90000 for three Mülheim M8C trams.
Pesa is to develop a metro train design with the aid of a 24m zoty grant from the National Centre for R&D.
Russia: Krasnodar's transport operator has ordered a prototype PK Transportnye Systemy three-section 71-931 Vityaz tram. It is to arrive in kit form in July for 10% local assembly, with a target of 25% in two years when the modernised workshops would be able to assemble 24 trams/year.
Thailand: Cement manufacturer TPI Polene has taken delivery of eight CRRC Ziyang diesel locomotives and 120 CRRC Meishan N62-THA container flat wagons. Meanwhile, SRT is to retender a contract to supply 50 locos after the disqualification of the sole bidder, a CRRC/Sanfoco consortium.
Ukraine: KfW is providing UZ with a €60m loan for the modernisation of 40 2TE116 diesel locomotives in 2016-17. UZ expects the refurbishment to cost 40% of the price of a new loco.