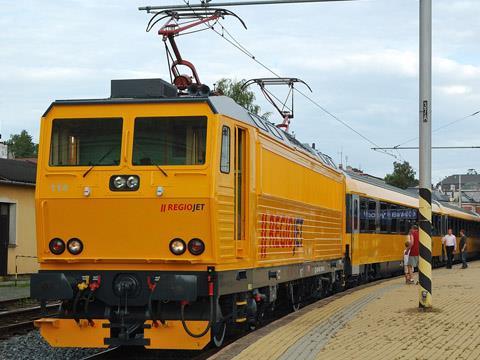 Australia: National Railway Equipment Co is to supply seven N-ViroMotive genset locomotives to Pacific National for use at BlueScope's Port Kembla steelworks from mid-2014.
Austria: Wiener Linien has ordered four more battery locos from Vossloh Kiepe and Schalker Eisenhütte for delivery in 2015.
Brazil: São Paulo suburban operator CPTM has awarded two contracts to supply a total of 65 eight-car EMUs. Lot 1 was won by a consortium of Hyundai Rotem and Iesa Distribuidora Comercial, and Lot 2 by CAF Brasil.
Toshiba is to supply traction equipment for 240 EMU cars CNR Changchun is to supply to Rio de Janeiro.
Canada: As an add-on to Metrolinx's order for Toronto, Waterloo Regional Council has reached an agreement to buy 14 Bombardier trams for the 19 km ION line scheduled to open in 2016.
China: CSR Meishan has won orders to supply wagons to Liangyun Group (160m yuan) and China Grain Reserves Northern Logistic Co (220m yuan); the latter has also ordered wagons worth 220m yuan from CSR Yangtze.
CNR Changchun is to supply 44 six-car trainsets for Changchun metro Lines 1 and 2 in 2013-16.
Ningbo Metro group has ordered CSR Zhuzhou trainsets worth 1·2bn yuan.
Czech Republic: CD has awarded KOZ Krnov a KC182m contract to modernise 26 Type Bdt coaches, fitting plug doors, vacuum toilets, power sockets and reupholstered seats. At a cost of KC68·1m, Janoza CZ is to modernise 32 Bmz coaches bought from ÖBB in 2011. ZOS Trnava, Pars Nova and Pesa are also undertaking coach refurbishment projects.
RegioJet has awarded Astra Vagoane Calatori Arad a contract to supply 73 coaches for use on Praha – Hamburg EC services from December 2014.
Europe: Siemens has fitted 30 ES64U2 locos owned by MRCE with Trainguard 200 on-board ETCS for use in Germany, Austria and Hungary.
France: SNCF has awarded wagon leasing subsidiary Ermewa a €263m contract covering the leasing of 30 wagon types, including Fas, Shimms, Remms, Habbillss and Gahkkss. Ermewa has awarded Czech manufacturer Legios a contract to supply 155 wagons of various types for KC300m.
Germany: LNVG has awarded Alstom a €27m contract to modernise 27 Coradia Lint 41 DMUs. Work to ensure they can be used for another 15 years includes replacement of doors and seats, repainting, installation of CCTV, power sockets and information screens and a wheelchair space with voice communications.
Israel: The first two of 15 Vossloh Euro 3200 locomotives ordered by Israel Railways was delivered to the port of Haifa in late June. ISR's first locos with AC traction motors are powered by 3300 hp EMD engines. They are to be used on push-pull passenger trains running at speeds up to 160 km/h, with the capability of 190 km/h running and the option for minor modifications to permit use at 200 km/h. The locos are scheduled to enter service from the end of 2013.
Kazakhstan: Leasing company Promagroleasing is to supply 400 cement hoppers built at the Mogilev works to Eurocement under a US$31·2m deal backed by Eximgarant. On June 26 Patentes Talgo and local joint venture Tulpar-Talgo signed a €482m contract to supply 21 long-distance rakes to KTZ in 2015-19. Production of the 603 coaches will start at Talgo's Rivabellosa and Las Matas plants in Spain and progressively transfer to Astana.
Latvia: The Holdinga Kompnija Felix parent company of rolling stock manufacturer RVR has bought and intends to refurbish the fleet of 48 EMU cars dating from 1964-2002 which were operated by Estonia's Elektriraudtee until it took delivery of new Stadler units.
Norway: Bergen's Bybanen has exercised options worth €100m for Stadler to supply eight more Variobahn trams by 2017, extend the 20 existing trams from five to seven sections, and maintain the fleet until 2026.
Mauritania: Standard Car Truck has signed a US$21m contract to supply SNIM with bogies for new iron ore wagons to be delivered in 2014.
Netherlands: Citing the urgent need to replace Fyra V250 trainsets, High Speed Alliance has awarded Bombardier a contract to supply Traxx locos as a temporary measure.
Poland: Podkarpackie voivodship has awarded Newag a 27·7m złoty contract to deliver two Impuls two-car EMUs, and Pesa a 14·2m złoty contract to supply a two-car DMU and a 31·7m złoty contract for two three-car Elf 21WE EMUs.
Newag has won a jointly-awarded contract worth 314m złoty to supply three-car EMUs to lskie (6), Maopolskie (6) witokrzyskie (6) and Podkarpackie (1) voivodships, co-financed from EU POIi sources.
Russia: Transmashholding's Bryansk plant is testing a TEM35 hybrid shunting locomotive with a Caterpillar engine and supercapacitors, which are expected to cut fuel consumption by 30% and emissions by up to a half.
Singapore: Toshiba is to supply high-efficiency Permanent Magnet Synchronous Motors for the refurbishment of drive systems on 66 six-car C151 metro trainsets which SMRT operates on the East–West and North–South lines. This is expected to cut power consumption by 30%.
Slovakia: Škoda Transportation has signed a €39m contract to supply 15 Type 30T trams to Bratislava. The deal includes maintenance support and an option for a further 15 trams.
Switzerland: SBB's Yverdon-les-Bains works is to modernise 119 Re460 electric locos at a cost of SFr230m.
Thailand: SRT ordered 20 CSR Qishuyan metre-gauge diesel-electric locos with AC traction equipment on June 25 (p48). They are to be delivered in 2015 for use as part of a 'hub and spoke' intermodal distribution model being developed by SRT, which expects to order 50 locos in the next two years. Santi Forestry Co has ordered CSR Qishuyan locos worth 370m yuan. Turkey: Legios has won a KC600m contract to supply 100 oil tank wagons to Tüpras this year. An option for further deliveries in 2014 would 'significantly' increase the overall volume.
Ukraine: Metrowagonmash is to supply eight five-car 81-717.5/81-714.5 trainsets to the Kyiv metro.
UK: On behalf of the Department for Transport, Southern has selected Bombardier to supply 116 Electrostar EMU cars by May 2015 at cost of £180m. The order will facilitate the cascade of EMUs between operators as part of the upgrade of the Thameslink route. A separate competition will be held to finance the vehicles, and there is an option for a further 140 cars.
USA: Massachusetts Bay Transportation Authority has placed a $70m firm order for a further 13 MotivePower HSP46 diesel locos with major components supplied by GE Transportation, taking its order to 40.