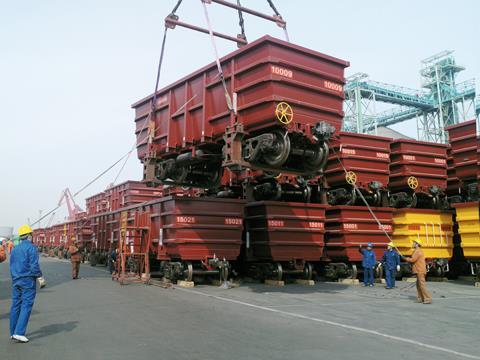 Austria: Linz Linien has exercised an option for a further seven Bombardier Cityrunner low-floor trams. The 900 mm gauge cars will be 40 m long and 2300 mm wide with 70 seats.
Azerbaijan: Baku Metro expected to sign a contract by the end of 2013 with Transmashholding to buy 15 cars for the Purple Line.
Brazil: Strukton Rolling Stock is to supply traction inverters, auxiliary inverters and battery chargers for the Scomi Rail monorail cars to be used on São Paulo metro Line 17.
The Rio de Janeiro state government has ordered a further 10 EMUs from CNR Changchun.
Bulgaria: The first of 20 Pesa Swing 1 009 mm gauge low-floor trams ordered in April at a cost of €50m was delivered to Sofia in late November (RG 5.13 p23).
China: Saft is supplying batteries for CNR Changchun metro cars for Beijing metro Line 6.
Estonia: EVR Cargo has ordered four Transmashholding TEM-TMH six-axle diesel shunting locomotives for delivery from April 2014.
Ethiopia: CNR Changchun is to supply 20 hard-seat, four hard-sleeper, four soft-sleeper and two dining car Type 25G coaches for the Ethiopia – Djibouti Railway.
Germany: DB Fahrzeuginstandhaltung is to maintain 36 Stadler Flirt EMUs in Krefeld for WestfalenBahn and Abellio Rail NRW.
At a cost of €27m Mülheim transport authority MVG has ordered 10 Bombardier bidirectional Flexity Classic trams, identical to 27 ordered by Essen's EVAG in December 2011. Deliveries are due to begin in August 2015.
Hungary: Transport authority NKZ has approved Siemens' Vectron AC locomotive for use in Hungary.
Italy: Poland's Newag has finalised its first DMU export order, a €14·8m contract to supply four 950 mm gauge 100 km/h DMUs to Ferrovia Circumetnea within 18 months. There are options for up to six more of the DMUs, which will have 100 seats, air-conditioning, CCTV and accessible toilets. Ferrovia Circumetnea originally awarded the DMU contract to CSF, which hit financial problems and in September 2013 Newag decided to buy out the order.
Trenitalia signed a €139·6m contract for Pesa to supply 40 ATR220 Atribo DMUs on December 12, after the rejection of an appeal by Stadler. The first is scheduled for delivery by November 2014, and there is an option for up to 20 more.
Poland: Koleje Dolnolskie has selected Newag to supply six three-car and five four-car EMUs for 177·3m złoty. Deliveries are specified to take place between May 2014 and August 2015.
Zachodniopomorskie voivodship has selected Newag to supply nine four-car EMUs with an option for eight more under a 300m złoty contract.
Russia: Voith is supplying 804 SEH-525 fully suspended single-stage helical gear units with hollow output shafts for 134 Alstom/TMH EP20 electric locomotives ordered by RZD.
Saudi Arabia: FreightCar America has been awarded a US$67m contract to supply SRO with 500 cement, cereal, limestone and aggregates wagons within 12 months.
UK: Eversholt Rail has awarded Bombardier a £30m two-year contract to refurbish the 40 four-car Class 365 EMUs leased to First Capital Connect; the contract had previously been awarded to Railcare, but was retendered with an extended scope when Railcare entered administration.
USA: Siemens has announced a partnership agreement to use Cummins QSK95 engines in a proposed 200 km/h diesel-electric passenger locomotive for the US market.
San Francisco's BART has ordered an additional 365 metro cars as an option on a contract with Bombardier signed in 2012 that has seen 410 cars ordered to date. An agreement to increase the rate of deliveries is expected to shorten the fleet renewal programme by 21 months and provide five free cars.
VTG Rail has acquired 350 jumbo covered hoppers with an average age of six years which are used to transport dried distiller grains.
Uruguay: Randon Brasil is supplying Ancap with 22 fuel tank wagons.