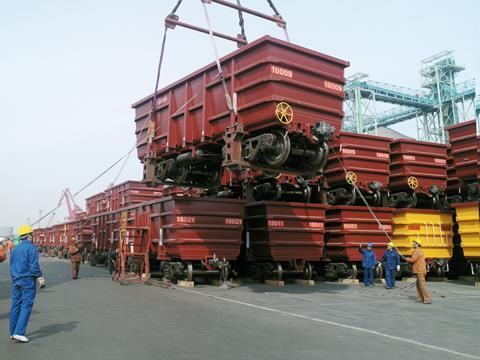 Africa: Transnet Engineering has delivered 10 Class 33 locomotives and 21 coaches to CDN and CEAR for use in Mozambique and Malawi.
Argentina: CSR Qingdao Sifang was awarded a US$327m order in May to supply 300 EMU cars in 2014 to increase capacity on the Roca commuter network in Buenos Aires.
Australia: MotivePower is to supply a further six standard gauge MP33C locos to Cfcla Rail in 2014.
Public Transport Victoria has placed an €85m order for Alstom to supply eight six-car X'trapolis EMUs in 2015.
Azerbaijan: Ukraine's Azovmash Group is to supply Type 15-1610-10 chemical tank wagons to AzMeCo.
China: Shenzhen Metro Group has awarded Nanjing SR Puzhen Rail Transport a 1·26bn yuan contract to supply 33 six-car trainsets for Line 3 in 2015-16. NPRT is to supply 56 cars for Line 4 under a 420m yuan contract.
CSR Zhouzhou has won orders to supply Beijing Railway Transport Co with locomotives worth 870m yuan.
Nanjing Metro Group Co has awarded NPRT a 1·1bn yuan contract to supply 29 six-car trainsets for Line 4.
Czech Republic: RegioJet has ordered 10 Pesa Link II DMUs for Opava – Olomouc services (RG 5.13 p7).
Germany: On May 21 Braunschweiger Verkehrs AG ordered three Solaris 1100 mm gauge Tramino trams to be delivered by May 2015, an option on a May 2012 order for 15.
National Express Group has placed a €170m order for 35 Bombardier Talent 2 three and five-car EMUs for use on RE7 Rhein-Münsterland-Express and RB48 Rhein-Wupper-Bahn services from December 2015.
Abellio Rail NRW has ordered 20 five-car Stadler Pankow Flirt 3 EMUs to operate Niederrhein-Netz services from December 2016 (RG 5.13 p14). They are to be sold to transport authority VRR and then leased back. Seven will be able to operate on Dutch 1·5 kV DC and 25 kV AC lines.
India: The first of 10 four-car trainsets which BEML is building for the Jaipur metro under a Rs3·18bn contract arrived at Mansarovar depot on May 20 (RG 2.12 p15). The rest are due to arrive by the end of October.
Italy: Trenitalia has awarded Pesa a €139·6m contract to supply 40 ATR220 DMUs, with an option for 20.
CAF has won a €7·7m contract to supply three 950 mm gauge trams to Cagliari, with an option for six more.
Liberia: CNR has delivered two GK1E diesel locomotives.
Lithuania: EIB is providing LG with a €50m loan to purchase 150 tank, 140 open, 100 covered and 200 flat wagons, three DMUs and six EMUs.
Malaysia: CSR Nanjing Puzhen has signed a 280m yuan contract to supply Siemens with stainless steel bodies for the 58 four-car Sungai Buloh – Kajang Line trains
New Zealand: TTG Transportation Technology is to retrofit Energy-miser Driver Advisory System to up to 182 KiwiRail locomotives.
Norway: Rana Gruber has ordered 40 ore hoppers from Kiruna Wagon.
Poland: Newag is to modernise two EN57 EMUs for Wielkopolskie voivodship for 17m złoty, and one for Dolnolskie at a cost of 7·8m złoty. The work includes fitting new AC drive systems. Pesa is to rebuild seven EN57 EMUs for Zachodniopomorskie at cost of 58m złoty.
Newag has been awarded a 192m złoty jointly–placed order to supply Impuls 31WE four-car EMUs to Zachodniopomorskie (seven) and Lubuskie (two) by April 30 2015. Wielkopolskie has an option for eight.
Pesa and ZNTK MM have won a 434m złoty contract to modernise 150 PKP Intercity coaches including restaurant, sleeping and couchette cars by 2015.
ZKM Gdansk has ordered five Pesa Jazz Duo 128NG trams to be delivered in 2014 at a cost of 43m złoty.
Newag is to lease four 220M DMUs to PR for eight years from January 2014 for 46·5m złoty, while KM has placed a 12·6m złoty order for a two-car DMU to arrive by November 30.
Russia: Alstom and Transmashholding are to develop a 2ES20 twin-section freight loco able to use both 3 kV DC and 25 kV AC. Testing of a prototype is envisaged from March 2014, with deliveries to RZD from December 2014, however no firm order for a series build has been placed.
Slovakia: ZSSK has ordered an additional Skoda Vagónka Class 671 three-car CityElefant EMU for delivery in 2014, with an option for eight.
Switzerland: On May 27 Baselland Transport awarded Stadler a second firm order worth SFr94m to supply 19 Tango trams in 2014-16.
UK: A firm contract for Vossloh España to deliver seven vehicles for the Sheffield – Rotherham tram-train pilot scheme in 2015 was signed on June 19. They will have Vossloh Kiepe electrical equipment suitable for both 750 V DC and 25 kV 50 Hz to allow for future main line electrification.
Ukraine: On June 24 the TramRus joint venture of Alstom and Transmashholding announced an agreement for bus manufacturer City Transport Group to produce and maintain Citadis CIS trams for the Ukrainian market. The low-floor trams would have 1524 mm gauge bogies suitable for local track conditions and be winterised for temperatures of -40°C.