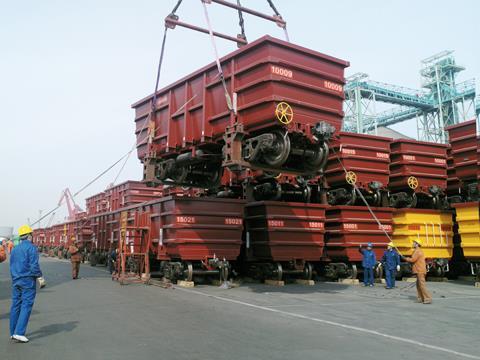 Argentina: The first an initial batch of 30 six-car 830 V DC third rail EMU cars being supplied by CSR for the Mitre commuter route arrived in Buenos Aires on September 6.
Coal mining company YCRT has acquired 12 diesel locomotives from the Czech Republic for its 750 mm gauge railway between Río Turbio and Río Gallegos. Conversion of existing diesel traction from hydraulic to electric transmission is planned.
Australia: Western Australia's Public Transport Authority is seeking interest in the supply of at least 50 six-car EMUs. This would double the size of the Transperth fleet, supporting anticipated ridership growth and expansion projects including the airport line.
Austria: Stadler is to supply a diesel rack locomotive to the Schafbergbahn by mid-2016.
China: Nanjing Metro Group has awarded Alstom and Shanghai Alstom Transport Electrical Equipment Co a €21m contract to provide Optonix traction equipment for 144 metro cars for Line 12, expected to open next year.
Huber+Suhner has supplied 200 km of radio-frequency coaxial cables for passenger entertainment systems on 100 eight-car CRH380 high speed trainsets.
CNR Changchun unveiled the first of 27 six-car trainsets for Chengdu metro Line 4 and 24 for Line 3 on August 21. They have stainless steel bodies and Optonix traction equipment supplied by Alstom and Shanghai Alstom Transport Electrical Equipment Co.
Czech Republic: TSS Cargo has acquired eight surplus Škoda Class 180 dual-voltage electric locos from DB.
France: On September 15 the Aquitaine region unveiled the first of 24 Bombardier Régio2N double-deck EMUs it has acquired for €235m. Deployment on TER services will start with the routes from Bordeaux to Arcachon and Agen, and is due to be completed by mid-2016.
Sytral has awarded CAF a €23m contract for the overhaul and refurbishment of 36 two-car MPL 85 rubber tyre trainsets from Lyon metro Line D.
India: CSR Zhuzhou is to supply and maintain three-car trainsets for the first phase of Navi Mumbai metro's Line 1 under a 300m yuan contract.
Indonesia: PT KAI has ordered 50 GE Transportation diesel locos rated at 2 250 hp for use on passenger and freight services. They are to be delivered in three batches by September 30 2016, with the final 11 for use in South Sumatra and the remainder for Java.
International: CNR has obtained GOST certification for the second design of electric freight locomotive developed by CNR Datong for Belarus. This would enable the type to be used throughout the CIS.
Iraq: Tüvasas is building 14 coaches for Iraqi Republic Railways.
Kenya: Rift Valley Railways has secured a US$20m asset financing deal with Standard Bank of South Africa and CFC Stanbic Bank to cover 80% of the cost of 20 used GE B23-7 locomotives being acquired from the USA; the first arrived in Mombasa last month.
Poland: Following test runs at up to 293 km/h PKP IC's Alstom Pendolino trains have been certified for 250 km/h operation under Polish and ETCS Level 1 signalling. Level 2 compliance is to follow, and entry into service is planned for December.
PR has selected ZNTK MM for a 160m złoty contract to modernise 21 EN57 EMUs with new interiors and AC traction.
Podlaskie voivodship has bought two EN57 EMUs from PR for 2·46m złoty.
MPK ód has selected Pesa to supply 22 low-floor trams for 150m złoty.
Romania: The city of Timioara has awarded Electroputere VFU Pacani and Astra Vagoane Cltori Arad contracts to refurbish 30 of its ex-Bremen Wegmann GT4 trams at a cost of €480 000 each, installing asynchronous motors, increasing the maximum speed to 70 km/h and fitting passenger information, heating and ventilation systems. VRG will design new front ends.
Russia: TMH's Novocherkassk Electric Locomotive Plant has obtained certification enabling series production of the 3ES4K three-section version of its 2ES4K Donchak locomotive to begin next year.
TMH's Demikhovo Engineering Plant has received approval for series production of the EDS1R special-purpose EMU, a two-car unit designed for carrying maintenance crews to worksites. One air-conditioned car has couchettes, a retention toilet and a kitchen, while the other car contains tool racks, workbenches and an internal ceiling-mounted crane for moving heavier equipment.
Slovakia: ŽOS Vrútky has ordered an additional 40 MAN D2862 LE633 588 kW engines for use on Class 861 Regiomover DMUs.
Switzerland: SBB has awarded ABB a SFr69·2m contract to supply 202 water-cooled IGBT convertors for the SFr230m modernisation of the Re460 locomotive fleet by 2022.
UK: Leasing company Eversholt Rail has awarded Alstom a £36·1m contract to modernise 40 Class 334 three-car EMUs used by ScotRail.
On September 12 Transport for Greater Manchester confirmed it had finalised a £34m order for 16 Bombardier Flexity Swift trams, an increase from 12 originally planned. This will take the fleet to 120.
Hitachi Rail Europe has awarded TRB Lightweight Structures a £13·5m contract to supply partitions, toilet panels and bulk storage partitions for the Intercity Express Programme trainsets. Getzner Werkstoffe has a €1m contract to supply vibration-isolating floating floors, while Hitachi Metals is to supply cables.
USA: Caltrain is to buy and refurbish 16 surplus Bombardier Bi-Level Generation 2 coaches from Metrolink, with the $15m cost to be funded from farebox revenue and a bond.