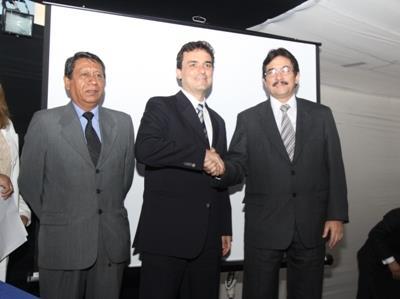 PERU: Transport Minister Enrique Cornejo announced the selection of the Tren Eléctrico Lima consortium, comprising Graña y Montero SA and Norberto Odebrecht SA, to carry out the civil works and E&M scope on the 12·3 km extension of Lima's metro Line 1 at a cost of US$410·2m on December 2. On November 10 the Cesel-Pöyry consortium had signed a contract worth US$14·9m for project supervision.

The plan to extend Lima's 9·8 km Tren Eléctrico line northwards from Atocongo to Avenida Grau was developed more than 20 years ago but failed to get off the ground, and for the last six years service on the existing route has been limited to weekends. An initial attempt in 2008 to tender the concession to build the extension was abandoned in January 2009 due to lack of bids.

The work, which includes replacing the E&M equipment on the existing section as well as building the new corridor and nine stations, is due to be completed in 18 months. State agency Proinversión is currently tendering the 30-year contract to operate and maintain Line 1, and supply 15 more trains, which should be awarded in March 2010.

Total project cost is put at US$549m, to be partly financed by a US$300m loan from Corporación Andina de Fomento.

Future expansion from Avenida Grau to San Juan de Lurigancho is also envisaged which would extend Line 1 to 34 km and 26 stations.