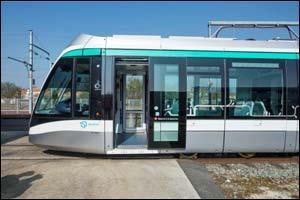 FRANCE: Trial running without passengers began on tram route T8 in Paris on November 18, ahead of the start of passenger services on December 16.
Route T8 runs north from Saint-Denis Porte de Paris to Delaunay-Belleville, where it splits into two branches, terminating at Villetaneuse-Université and Epinay-Orgemont.
Interchange will be provided with metro Line 13 at Saint-Denis Porte de Paris, with tram route T1 at Saint-Denis and with RER Line C at Épinay-sur-Seine. Villetaneuse-Université will offer interchange with the future Tram-Express Nord tram-train route.
Services will be operated with a fleet of 20 five-section Alstom Citadis trams. Peak frequencies will be 6 min on each branch, giving 3 min headways between Saint-Denis Porte de Paris and Delaunay-Belleville.