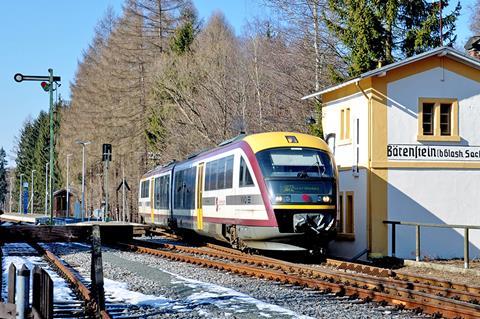 GERMANY: A three-month study of the extent to which battery-powered trains could replace diesel traction in Germany is being undertaken through a collaboration between rolling stock financing company Rock Rail, Technische Universität Dresden and the UK's University of Birmingham.
According to lobby group Allianz pro Schiene, electrified routes currently account for 60% of the national network and carry 90% of all rail traffic. The government has set a target of increasing the electrified route length to 70%, but the high cost of overhead infrastructure means that full electrification is not seen as economically viable for the remaining routes. Low-carbon alternatives to diesel are therefore being investigated.
The collboration is one of four international projects within the SET4FUTURE technology cluster programme being supported by the Land of Sachsen.
'We have been conducting research into alternative electric propulsion for rail vehicles for more than 10 years', said Prof Dr-Ing Arnd Stephan of TU Dresden. Noting that there was now a growing commercial interest, he explained that this required 'a swift assessment of the various operating options' which could be best be achieved through European co-operation.
'Rail decarbonisation is the big challenge facing the global rail industry and our two universities are at the forefront of research and development', added Alex Burrows, Director of the Birmingham Centre for Railway Research & Education.
'Supporting the development of greener, more sustainable rail travel is a key focus for Rock Rail and we are committed to helping achieve this in Germany', said, the company's Commercial Director Nick Watson. 'This collaboration is supporting the work we are doing in developing funding solutions to bring cleaner, state-of-the-art trains to the German market, helping encourage a shift towards rail travel and supporting decarbonisation of the rail network.'