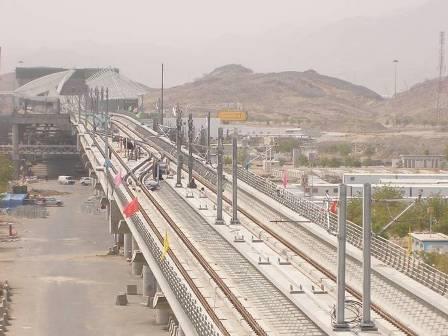 The Saudi government has approved 60bn riyals for the construction of a metro network in Makkah. This is intended to supplement the existing Al Mashaaer Al Mugaddassah line, which carries Hajj pilgrims.
AENA Aeropuertos Españoles has awarded Bombardier a €41m contract to operate and maintain the 2 km Innovia automated people mover at Madrid Barajas airport for a further 10 years.
Verkehrsverbund Rhein-Ruhr is to provide a €44·8m grant towards Bogestra's €62·1m project to extend tram route 302/310 from Bochum-Langendreer to Witten. Construction of the 5·5 km extension began in September and is expected to take five years.
December 30 saw two openings on the Shanghai metro. Line 9 was extended from Songjiang Xincheng to Songjiang South Railway Station, with two intermediate stations. Line 13 opened from Jinshajiang Road on the Line 4 ring to Jinyun Road, with three intermediate stations.
Alma-Atinskaya opened on December 24 to become the 187th station on the Moscow metro. It is at the southern end of Line 2, reached by a 3·1 km extension from Krasnogvardeyskaya. On December 27 a 1·5 km northern extension of Line 3 opened, linking the former terminus at Mitino to a new station at Pyatnitskoye Shosse.
Izmir metro opened an extension from Üçyol to Hatay on December 29. The 1·7 km section was the second extension to open in 2012, following Bornova – Evka 3 at the other end of the line in March.
Line 1 of the Zaragoza tram network grew by a further 844 m on December 20, with the opening of the section from Plaza de España to César Augusto and Plaza del Pilar. The final section to Parque Goya north of the city centre is expected to enter service in April 2013.
A 2·3 km extension to the Kaohsiung metro Red Line opened on December 23, bringing the line to Gangshan South.