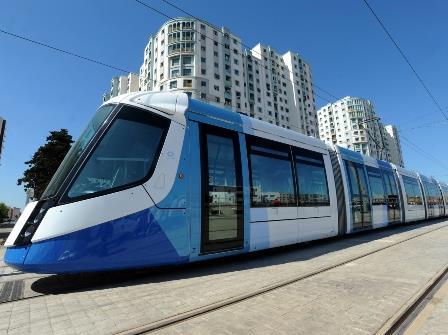 Mumbai metro is auctioning naming rights for the 12 stations on the city's first metro line.
A 4·2 km extension of the Alger tram line was opened on April 16, running east from Bordj El Kiffan to Café Chergui with six stops.
The Malaysian government has approved the second Klang Valley mass rapid transit line in Kuala Lumpur, which is to link Sungai Buloh and Putrajaya.
An extension of the Bursaray light metro line in Bursa opened on March 19 from Arabaytag, followed by a further extension to Gürsu on March 27.
Transport for London announced on March 27 that the western branch of the Crossrail project is to be extended from Maidenhead to Reading.
A 12 km extension of Tehran metro Line 3 built at a cost of €580m opened on April 22 between Azadegan and Vali-e Asr. There are plans to extend the line 17 km northeast to Hossein Abad.
Project manager Mass Rapid Transit Jakarta announced that work started on the underground section of Jakarta's first metro line on April 4 with excavation at Hotel Indonesia Traffic Circle, where there will be an underground station.
The final section of the Manchester Metrolink extension to Rochdale opened on March 31, running from the railway station to Smith Street in the town centre.
A groundbreaking ceremony took place in March for metro line M5 on the Asian side of Istanbul. It is to be completed in 38 months. The east-west line would run from Üsküdar on the Bosporus to Çekmeköy.