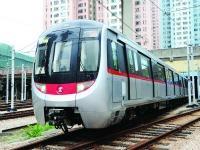 An Octopus-Lingnan Pass smart card has been launched which can be used for transport payments in Hong Kong and 16 cities in Guangdong province. The cards contain two e-purses which can be topped up in yuan or Hong Kong dollars, with payment deducted in the appropriate currency.
Public wi-fi is being tested at Kyiv metro's Maidan Nezalezhnosti station as a pilot for a possible wider roll-out.
Port Authority of New York & New Jersey has awarded Bombardier a $243m contract to operate and maintain the 4·7 km AirTrain monorail at Newark Liberty Airport for a further 10 years, and undertake an upgrade programme.
Stuttgarter Straßenbahnen has called tenders for construction of a 1·1 km extension of light rail line U12 from Möhringen, through the Synergiepark Stuttgart development to Galileistraße in Dürrlewang. Construction of the double-track surface alignment is scheduled to begin in March 2013 for completion in October 2015.