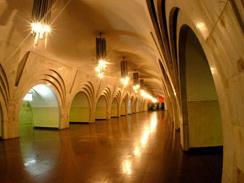 EBRD, EIB and the EU's Neighbourhood Investment Facility are each providing €5m for Phase II of the Yerevan metro rehabilitation project, which aims to deal with water ingress problems in the tunnels.
The Dubai metro is to introduce limited-stop express trains on the Red Line for a five-month experimental period starting in October, cutting journey times by 10 min.
The Brazilian government has received a R$200m proposal from the city of Foz do Iguaçu for the development of a 40 km light rail network in three phases over six years.
Assisted by Grütter Consulting, Mexico City has applied for a clean development registration for the metro Line 12 project. CDM credits can be sold to other countries to meet their emissions reduction targets.
Following the completion of feasibility studies by Artelia that were funded by the French government, the city of Antofagasta in northern Chile is looking to build a light rail network at a cost of around 225bn pesos. According to Mayor Marcela Hernando, the project could be privately financed or draw on the 370bn pesos that the Chilean government has set aside for transport projects outside the capital.
On August 12 MPK Poznan opened a 2·5 km tramway extension to Franowo. The route has five stops and includes a 1 km long tram tunnel, the second in Poland after one in Kraków.
The Land of Brandenburg is to fund the planning of 2·2 km of track doubling between Strausberg and Hegermühle, which would enable Berlin S-Bahn services to be increased to every 20 min.