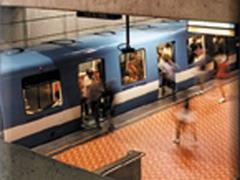 Société de transport de Montréal has decided to re-tender the procurement of up to 1053 new metro cars. CAF will be allowed to participate along with a consortium of Alstom and Bombardier, after a special board meeting on July 14 confirmed that CAF had demonstrated 'full compliance with applicable requirements'.
Lyon transport authority Sytral has renewed Keolis' contract to operate the city's public transport network. The six-year contract, worth €2bn, will take effect on January 1 2011.
On July 9 Brazilian savings bank Caixa Econômica Federal confirmed 54 loans totalling R$9·9bn for urban rail projects in 11 of the 12 cities hosting the 2014 FIFA World Cup. The main recipients are São Paulo (R$2·86bn), Belo Horizonte (R$1·47bn) and Manaus, which will receive R$1·54bn towards its R$2bn light rail and BRT projects. The Amazonas state government plans to relaunch a R$1·3bn tender to build a 20 km light rail route in Manaus by 2013.
UK Transport Minister Norman Baker opened the newly-extended Manchester Metrolink depot at Queen's Road on July 15; the £10·5m facility can now provide stabling and maintenance for 80 trams.
Alstom delivered the first of 53 additional Citadis 302C low-floor trams to Rotterdam operator RET on June 23.
Transdev has been awarded a six-year contract worth 800m dirhams to operate and maintain the 20 km Rabat-Salé tram network in Morocco, which is due to open by 2011. The contract, which took effect on June 15, includes an option for a further six years.
Tunnelling started on a 2·1 km extension of Sofia metro Line 1 from Mladost 1 to Tsarigradsko Shose on July 8. The Metro Mladost Union joint venture has 39 months to complete the 223m leva construction contract, including two stations, which forms part of an 11 km nine-station extension to the airport. Six companies have reportedly submitted bids to design metro Line 3 from Knayevo to Vasil Levski (MR 6.09 p9).
The province of British Columbia has issued a request for qualifications to build the proposed 11 km Evergreen Line linking Coquitlam with Port Moody and Burnaby in Vancouver. Construction of the design-build-finance project may start next year for completion in 2014.