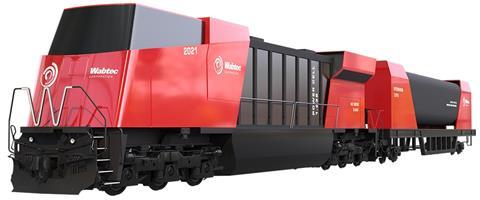 USA: Citing greater awareness of climate change and the need to reduce greenhouse gas emissions, Wabtec has entered into collaborative research and development agreements with the Oak Ridge and Argonne National Laboratories to identify potential options for applying hydrogen in the rail industry.
Although it expects hydrogen to play a role in achieving a zero-emission global rail network, Wabtec explained that 'given the cost and maturity of the technology, it is not currently ready for commercial implementation in the freight rail industry'. It believes that a collaborative approach is needed to bridge the gap between emerging technology and practical application.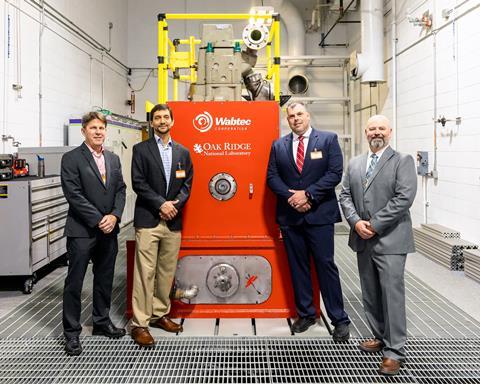 A key priority is to reduce CO2 emissions from around 25 000 locomotives currently in use in North America, which typically have a service life of 30 years or more.
Wabtec has already signed an agreement General Motors to investigate the use of fuel cells in locomotives. In a 'parallel approach', a single-cylinder dual-fuel engine adapted to burn hydrogen has been installed at the Department of Energy's National Transportation Research Center at Oak Ridge.
The DOE-funded collaboration will focused on taking hydrogen combustion technology 'from simulation to realisation' utilising the Wabtec engine to investigate how locomotive engines can be modified to ensure safe, efficient, and clean operation. The team is expected to develop hardware and control strategies for the engine, which will run on both hydrogen and diesel fuel.
The first phase of the project will focus on the hardware changes needed for retrofitting existing locomotives. During the second phase, ORNL and Wabtec will modify the engine to increase the amount of hydrogen that can be used, with the ultimate aim of completely replacing diesel by hydrogen or other low-carbon fuels.
Argonne will contribute its experience in modelling hydrogen injection and combustion to create a framework for the study of combustion and emission control technologies. This will be undertaken by experts in fuel injection, kinetics and combustion modelling, design optimisation, high-performance computing and machine learning.
'Many railroads have aggressive goals when it comes to CO2 reductions that are in the 30% range over the next decade', said Wabtec's Chief Technology Officer Eric Gebhardt. 'The results from this CRADA with Argonne and Oak Ridge National Labs will contribute greatly to decarbonisation of the rail industry using hydrogen.'