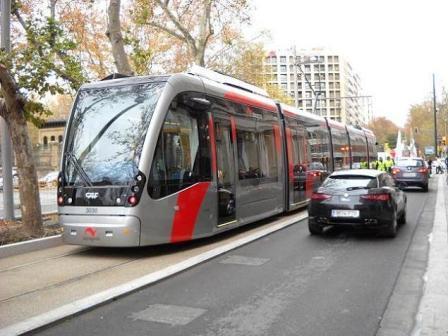 SPAIN: The first phase of Zaragoza tram Line 1 entered service at 04.52 on April 19, following successful completion of trials which started in November last year.

The initial 6·4 km section of the north-south route links Plaza Paraíso on Gran Vía with Valdespartera and has 13 stops. Work on Phase II connecting Gran Vía to Parque Goya in the north is due to start in July and will last for around 24 months (RG 10.10 p51).

The 12·8 km project with 25 stops is being implemented by the Traza consortium of Tuzsa, CAF, FCC Construcción, Acciona, Ibercaja and Concessia at a cost of €400m and should be completed in June 2013. Traza will operate the line for 35 years.

A fleet of 21 Urbos 3 trams has been supplied by CAF. The vehicles are 33 m long and 2 650 mm wide with capacity for 200 passengers, comprising 54 seats and 146 standees. The trams are equipped with CAF's onboard ACR ultracapacitor energy storage system for catenary-free operation, which will be used in the city centre once Phase II is completed.