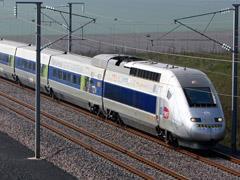 FRANCE: SNCF is planning to call tenders shortly for the supply of up to 100 new-generation high speed trainsets, equipped to operate cross-border services following the liberalisation of international passenger services in the European Union.
President Guillaume Pepy confirmed on October 11 that SNCF is planning a firm order for 35 trainsets, with options for another 65. Under a procurement strategy approved by the railway's board in July, the operator expects to launch discussions with major manufacturers including Alstom, Bombardier and Siemens by the end of this month, and issue a formal tender invitation in January 2010. The programme replaces earlier proposals to award a framework contract covering several hundred trainsets which would both augment the fleet and allow replacement of the oldest TGVs.
According to Deputy Director-General, Passenger Services, Mireille Fougère, the new multi-system trainsets would be cleared to operate both in France and neighbouring countries. A batch of 13 sets valued at around €400m would replace the multi-system TGVs used by the SNCF-SBB joint venture Lyria and a similar number would augment the fleet used on Thalys services to Brussels, Amsterdam and Köln. The remaining units would be held in reserve until suitable opportunities for international expansion had been identified, she explained.
Pepy also outlined a sweeping vision to expand the TGV network in and around the Grand Paris region, developing extra stations to relieve the current four termini and improve accessibility to high speed services for the 80% of residents living in the surrounding suburbs.
Top priority is to complete the long-planned extension of TGV Interconnexion across the south of Paris, from Valenton to Massy, where inter-regional TGVs currently have to share tracks on the Grande Ceinture with suburban EMUs. This line would have an intermediate station close to Orly airport and another at Villeneuve-Saint Georges.
A further station would be developed at La Défense on the western side of the city, as the main hub for the proposed Paris – Rouen – Le Havre high speed line. This would be connected to Massy by an orbital route around the southwest of the city. A link across the north of Paris would connect La Défense with LGV Nord, enabling Eurostar to serve the new hub with a 2 h 15 min journey time from London. The northern link would serve another TGV interchange at Carrefour Pleyel, near Saint Denis where connections would be provided with RER D and an extension of the Météor Line 14.
According to Pepy, 'our dream is to have 12 TGV stations for the 12 million inhabitants of Ile de France. Grand Paris would be linked with the European high speed network, to challenge London or Frankfurt.' Total cost of this project is put at between €250m and €500m, with much of the funding expected to come from the national and regional governments.