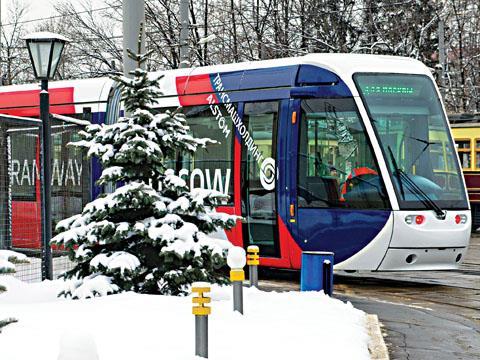 RUSSIA: A prototype 100% low-floor tram custom designed for the Russian market was unveiled at Moscow's Bauman tram depot in the presence of Mayor Sergey Sobyanin on February 27.
Based on Alstom's successful Citadis family, the design forms the basis of a joint bid by Alstom and Transmashholding for a contract to supply between 200 and 300 vehicles for the capital's 425 km tram network. Featuring a new 1 524 mm gauge bogie, it has a maximum speed of 75 km/h and a projected service life of 30 to 40 years. Modern design means it would consume 10% less power than the city's existing trams.
'The vehicles we currently use are old and obsolete', said Mayor Sobyanin. 'However, Moscow cannot take advantage of completely new technology because the latest in tram design is too expensive and our track infrastructure will not allow us to use it to its potential'. He said he hoped Alstom's competitors would also put forward proposals, 'with the result that we'll have offers from other companies rather than just a single offer'.
The Alstom-TMH tram would be offered in lengths of 25 m to 35 m, providing space for up to 300 passengers, with wheelchair access and optional onboard wi-fi.. There would be a choice of front end exterior designs, and three 'Moscow-inspired' interiors are proposed, offering 'classic', 'dynamic' or 'friendly' options.