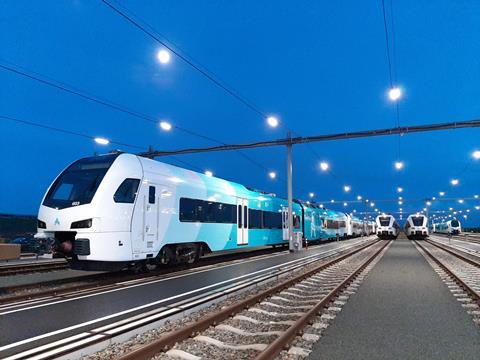 NETHERLANDS: The northeastern province of Overijssel has frozen its plans for deploying battery-electric trains on non-electrified routes from 2027, citing higher costs than expected.
The province began investigating the use of battery trains to replace diesel traction on routes without overhead electrification, following a study that costed the deployment of hybrid multiple units on regional routes at €59·6m, against €113m to install 1·5 kV DC electrification.
Infrastructure manager ProRail and operator Arriva Nederland conducted trials on the Almelo – Hardenberg and Arnhem – Doetinchem routes in February, using a Stadler Wink multiple-unit which was temporarily fitted with batteries and a pantograph.
However, the provincial government decided to put the project on hold following recent advice from ProRail that indicated the deployment of battery-electric trains would be more expensive than previously anticipated, as the power supply network would have to be upgraded significantly.