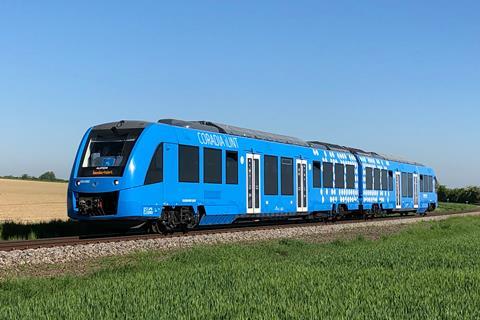 GERMANY: Niedersachsen transport authority LNVG has chosen to call tenders for battery-electric rather than hydrogen trains to replace diesel traction on non-electrified lines from 2029, as part of a strategy to use only rolling stock with no local CO2 emissions from 2037.
Having decided in 2020 that it would not order any more diesel trains, LNVG undertook market research into alternative options including battery and hydrogen traction; Alstom iLint hydrogen multiple-units have been operating on LNVG's Weser-Elbe services since 2018.
On July 26 the Land's transport ministry announced that it had concluded that batteries would offer the lowest overall cost, and as a result LNVG is to call tenders later this year for the supply of 102 battery-electric multiple-units.
The batteries would be charged from overhead electrification where available, or at 'charging islands' elsewhere. Features will include doors to provide accessibility from platforms at two different heights, and more space for bicycles.
The BEMUs will initially replace diesel multiple-units on Heidekreuz services RB37 Bremen – Soltau – Uelzen and RB38 Hamburg Harburg – Buchholz in der Nordheide – Soltau – Hannover from 2029.
There will then be a phased roll-out across Weser-Ems and Niedersachsen-Südost A and B services, with existing DMUs that have not yet reached the end of their economic lives being refurbished and cascaded across the routes before eventually being replaced. The hydrogen trains will be retained on Weser-Elbe services.
LNVG wants Deutsche Bahn to electrify the Osnabrück – Oldenburg route by 2034 to benefit local services and to increase flexibility in the event of disruption. Services on the route would require 27 electric-only multiple-units, while 19 of the 102 BEMUs would be used on the Osnabrück – Bremen route where charging islands would be provided.