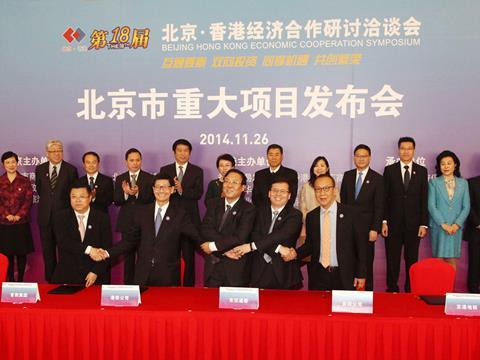 CHINA: A letter of intent setting out the planned terms of a PPP concession agreement covering railway systems, rolling stock and operations for the future Beijing metro Line 16 was signed on November 26 by the municipality and the Beijing MTR Corp joint venture of MTR Corp (49%), Beijing Capital Group Ltd (49%) and Beijing Infrastructure Investment Corp (2%).
The 50 km north – south Line 16 will run from Beianhe to Wanping Town, serving 29 stations including 13 interchanges. The project is being procured as two packages. Part A covering the civil works accounts for about 70% of the project's 49·5bn yuan capital cost, and has been awarded to Beijing Infrastructure Investment Corp. Construction started in March 2013, with Phase 1 scheduled to open by the end of 2016 and the full line after 2017.
The letter of intent of intent signed with Beijing MTR covers Part B, the supply of the electrical and mechanical systems as well as rolling stock. This is worth 15bn yuan, and MTR Corp would contribute additional equity of 2·45bn yuan. Beijing MTR would also undertake the operations and maintenance for 30 years.
'Beijing Metro Line 16 would be Beijing MTR's fourth metro project in Beijing and as a shareholder, we are most honoured to have the opportunity to extend safe, reliable and convenient metro service to even more passengers in the capital city,' said Lincoln Leong, Acting CEO of MTR Corp. 'Through Beijing MTR, our railway business in Beijing would extend to about 150 km after Line 16 opens and we will continue to contribute to the sustainable mass transit development of Beijing.'