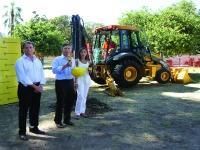 ARGENTINA: A groundbreaking ceremony attended by Buenos Aires Major Mauricio Macri on January 17 marked the start of work on two extensions of Line H totalling 4 km, which will add six more stations.
The 5∙5 km orbital line is to be extended north from Corrientes to Plaza Francia, serving intermediate stations at Córdoba, Santa Fe and Las Heras. The southern extension from Hospitales would add stations at Pompeya and Sáenz. Work is expected to be completed by 2015, when the line is expected to be carrying 300 000 passengers a year.
The extensions are being built by a joint venture of Techint and Dycasa under a 2227m pesos contract awarded in September 2011. No decision has yet been made on an 800m pesos contract to supply 102 new air-conditioned cars to operate Line H.
Meanwhile, work is nearing completion on two other short extensions, taking Line A from Carabono to San José de Flores and San Pedrito, and Line B from Los Incas to Echeverría and Juan Manuel de Rosas. Both are around 2 km long, and expected to be completed during the first half of 2012.