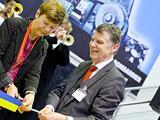 SWEDEN: Bombardier Transportation officially opened the Mitrac Powerlab at its Västerås plant on March 25.
The centre of competence for medium-power technology including traction and auxiliary converters, motors and gearboxes is the company's second development and test laboratory, after the Zürich site which was opened in 2009.
Bombardier said the new facility would enable engineers to develop, improve and test products, shortening the time to market and ensuring compliance with noise, electromagnetic compatibility and energy efficiency standards.