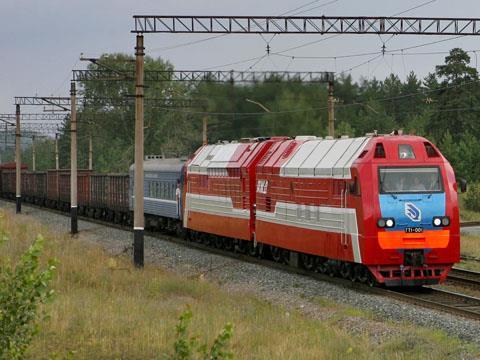 RUSSIA: The GT1-001 gas turbine-electric locomotive prototype being developed by RZD achieved a further milestone on December 20, when it hauled a 12 000-tonne freight train on the Moscow Railway's Bekovka – Bekasovo line.
The tests were conducted to demonstrate the locomotive's ability to haul longer and heavier trains than other modern locomotive designs. RZD Senior Vice President Valentin Gapanovich said it was 'a breakthrough project' which 'will create a genuine opportunity for developing the Russian transport industry on the strength of home-grown scientific achievements.' He suggested that 'the use of a gas turbine-electric locomotive will substantially lower energy consumption, and reduce the financial and labour cost of servicing.'
Work on the concept began with the signing in December 2006 of an agreement between RZD and the Kuznetsov Scientific & Technical Complex in Samara, which developed the NK-361 gas turbine prime mover. The locomotive project was further developed by the VNIKTI Russian Institute of Research, Design & Technology. Fuelled with liquefied natural gas, the loco is intended for use on non-electrified sections of the network. RZD expects to put the first series build locos into service in Siberia, where there are large reserves of natural gas.
With a total weight of 300 tonnes, the two-section GT1 combines a turbine and power unit with a separate section containing the 17 tonne fuel tank, which gives a range of 750 km.