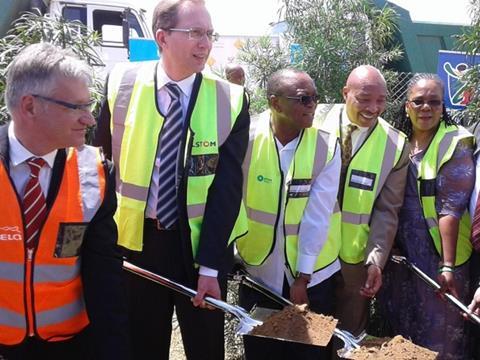 SOUTH AFRICA: The Gibela joint venture of Alstom and local partners marked the start of construction of its new EMU manufacturing plant at Dunnotar on March 4, with a ceremony attended by Alstom Chairman & CEO Henri Poupart-Lafarge, PRASA Chairman Dr Popo Molefe, Transport Minister Dipuo Peters and the Mayor of Ekurhuleni Mondli Gungubele.
The plant is intended to assemble 580 six-car X'Trapolis Mega EMUs for Passenger Rail Agency of South Africa, under a R51bn contract for 600 trains signed in October 2013. Deliveries are scheduled to run over 10 years, with Gibela to provide ongoing maintenance support for 19 years. The first 20 units are being assembled at Alstom's Lapa plant in Brazil; two have already been delivered to Prasa's Wolmerton depot for testing and Gibela CEO Marc Granger says the third is expected to arrive in South Africa later this month. The first locally-built train is to be completed by the end of 2017.
Being built at a cost of R1bn, the 60 000m² Dunnotar plant is due to become operational in phases over the next 18 months. Granger told Railway Gazette that the first facility to be completed will be the training centre, which is due to be handed over in the last quarter of this year. That will enable Gibela to begin recruiting and training around 1 500 employees. Of these, he says the vast majority will be local, supported by a small number of expatriates and short-term experts seconded to help with specific aspects of the programme.
The facilities at Dunnotar will include a 1·2 km test track so that Gibela can undertake dynamic testing and commissioning of the units before delivery. The plant will also support the ongoing maintenance contract, although much of that work will be undertaken at the depots where the trains are based in each of South Africa's main conurbations.
'This new factory will be a catalyst for the revitalisation of the rail industry in South Africa through local manufacturing, high local supply level, employment creation and skills development' said Poupart-Lafarge. Granger says Gibela has already begun sourcing material locally, and some South African made components have been shipped to Lapa for use in the initial 20 trains.
With Prasa expected to require a further 600 trainsets to replace its ageing suburban fleet, Granger says Gibela is well-placed to win a follow-on tender providing work for the plant after completion of the initial order. The joint venture will also be bidding to supply trains for other operators in the southern Africa region, he confirmed.