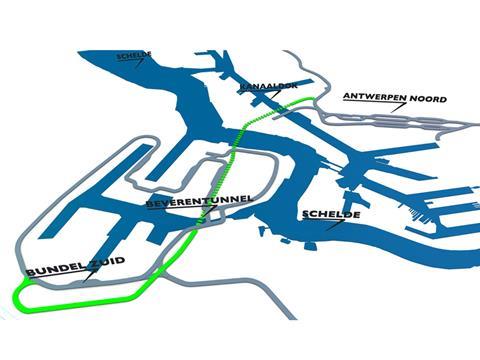 BELGIUM: The BAM PPP-PGGM joint venture of Royal BAM Group's public-private partnership arm BAM PPP and Dutch institutional pension fund investor PGGM has refinanced €580m of debt and associated interest swaps relating to the Liefkenshoek rail link in Antwerpen.
The 16 km link including a 6·5 km twin-bore tunnel under the River Schelde opened in December 2014, improving rail connectivity at the port.
The line was developed through the second Belgian railway PPP, coming after the Diabalo rail link to Brussels Airport. The design, build, finance and maintain contract was awarded in 2008 to Locorail, formed by BAM PPP Investments Belgium, CFE and Vinci Concessions. BAM PPP-PGGM is now the sole owner .
On October 18 BAM PPP said it had put in place robust long term financing for the remainder of the concession period to 2051. This replaces the soft mini-perm structure which had been put in place when financial close was reached months after the Lehman Brothers collapse in 2008.
The refinancing involves existing lenders the European Investment Bank, BNG Bank, Société Générale and Banco Santander, and new lenders AG Insurance and Baloise Belgium. Société Générale is agent and account bank. Clifford Chance, Linklaters, Loyens Loeff, Traderisks and Operis acted as external advisors, with BAM PPP responsible for the financial advice.