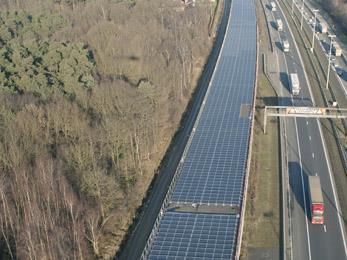 BELGIUM: A 50 000m2 installation of photovoltaic solar panels on the roof of a 3·4 km covered way where the Brussels - Amsterdam line passes through protected woodlands north of Antwerpen was inaugurated on June 6.
The €14·5m installation has been undertaken by SPS Fin, a public-private partnership between renewably energy company Enfinity, which arranged funding and was responsible for construction, rail infrastructure manger Infrabel, and the local authorities in Schoten and Brasschaat.
According to Enfinity the installation of 50 000 photovoltaic panels 'should generate an estimated 3 300 MWh' per year, 'equivalent to the annual electricity consumption of approximately 950 families.'
The electricity is supplied directly to Infrabel, which has committed to reducing its carbon footprint under its network management agreement with the government. A second revenue stream comes from the government's 'Green Certificates', which support renewable energy production, and the project relies on this to be financially viable.
'Solar is a relatively new technology on this scale', head of Enfinity UK Bart van Renterghem told Railway Gazette International, 'and still needs some incentives'. However, photovoltaic generating costs have fallen by 30% to 40% in the past three years, and it is hoped that more large scale developments will bring further cost reductions so subsidies are not required for similar projects by 2015-16; according to van Renterghem, parity has already been achieved in southern Italy, where there is more sun.