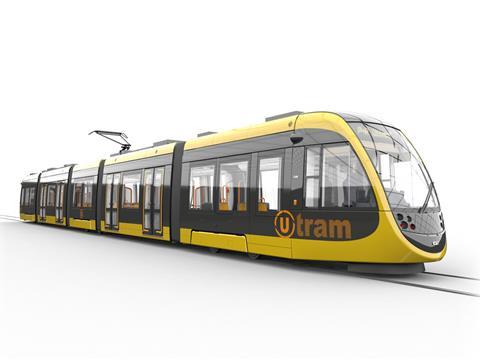 NETHERLANDS: On January 30 the Utrecht City region formally signed the contract for preferred bidder CAF to supply 27 trams for the future Uithof Line. The 8 km route will link Utrecht Centraal station with the Uithof university campus and a park-and-ride site from mid-2018.
The five-section 100% low-floor Urbos 100 trams will be 33 m long and 2 650 mm wide, with four double doors per side. They will have 62 seats, two wheelchair spaces and a total capacity of 216 passengers at 4/m2. The air-conditioned cars will feature passenger information systems and CCTV.
They will have an operating speed of 70 km/h and be equipped for multiple operation. The Uithof Line is being electrified with 750 V DC overhead, but the trams will also have provision for future operation using CAF's ACR ultracapacitor energy storage system.
The first of the trams are scheduled to be delivered to Nieuwegein depot on the existing sneltram line by the first quarter of 2017.