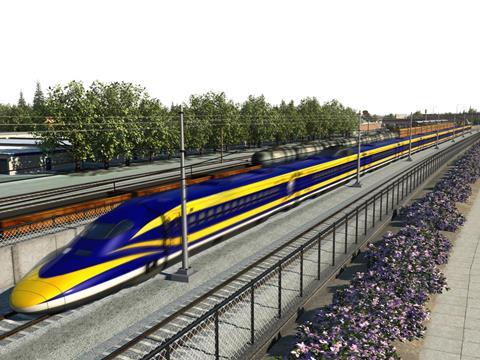 USA: The California state budget for 2014-15 includes a commitment to provide a further $250m for the planned San Francisco – Los Angeles high speed rail project.

The contribution would be provided using revenues accrued by the state's emissions trading scheme. More significantly, the budget, backed by Governor Jerry Brown and approved by the state Congress on June 16, also includes a long-term funding commitment which would allocate 25% of these 'cap-and-trade' revenues for use by the Californian High Speed Rail Authority on an ongoing basis. It is thought that this funding could provide between $3bn and $5bn per annum for the project, enabling CHSRA to raise funds by borrowing against the future revenue stream.

CHSRA is currently undertaking local consultation in northern Los Angeles County, amid suggestions that work on a section near Burbank could be brought forward under the new funding stream.

With the prospect of further federal government funding apparently unlikely in the medium term, CHSRA has been seeking alternative funding options to move the project forward. Last year, a series of judicial rulings placed a temporary halt on planned bond sales under the so-called 'Proposition 1A'.

The Proposition 1A bond sales were approved by a referendum in November 2008 and would unlock a further $9·95bn towards the $31bn cost of the 480 km Initial Operating Section. This would provide a 'one seat ride' between San Francisco and Los Angeles by 2027, with high speed services sharing tracks at either end of the route with Caltrain and LA Metrolink.