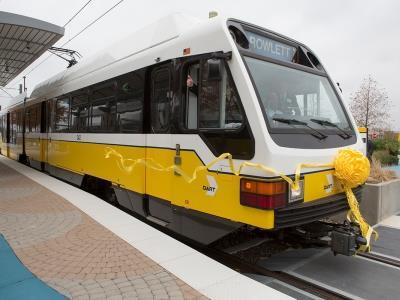 USA: Dallas Area Rapid Transit began revenue service on two more sections of its expanding light rail network on December 3. The opening of extensions to the Blue and Orange lines brings the total length of the network to more than 135 route-km.
A ribbon-cutting ceremony had been held in Rowlett on November 30 to mark the completion of a 7·3 km eastern extension of the Blue Line from Garland. Built at a cost of $360m, this is the first addition to the Blue Line since it reached Garland in November 2002. A southern extension from Ledbetter to the University of North Texas is expected to open towards the end of 2016.
Opening of the light rail extension is expected to bring commercial development in Rowlett, where changes to planning regulations have been made to encourage mixed-use transit-oriented development within walking distance of the station. 'Rowlett residents had the foresight and wisdom to invest in alternatives to driving around this sprawling region', said DART Chairman John Carter Danish. 'They knew public transit was more than an amenity, but a "must" for preserving their city's small-town charm while also providing access to big-city resources and opportunities.'
The other extension to open is the second phase of DART's $1·3bn Orange Line, running northwest from the city centre towards Dallas-Fort Worth International Airport. The first stage of this line with three stations opened as far as Irving Convention Center in July. The latest extension adds a further 6·5 km and two stations at North Lake College and Belt Line Road. The final section to DFW Airport is expected to open in December 2014. In the meantime, DART has introduced two connecting bus shuttle services linking both DFW and Love Field airports to the light rail network.
Noting that the Orange Line already serves 'educational and employment opportunities throughout north Texas', DART President & Executive Director Gary Thomas said that 'when it reaches DFW Airport, light rail will link the Dallas area to the entire world.'