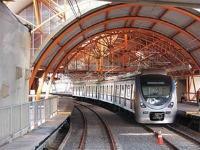 BRAZIL: Build-operate concessionaire CCR has awarded Egis a €12m contract for systems management and integration for the construction of the Salvador metro, as well as interface management between subsystems and civil engineering. Egis will work with Brazilian subcontractor MCA on project management.
The project comprises the completion of the 6·6 km first phase of Line 1 and the construction of a 5·6 km extension from Pirajá to Acesso Norte, as well as the construction of the 24·2 km Line 2 between Lauro de Freitas Avenue and Bonocô Avenue.
The initial section of Line 1 is expected to enter revenue service in June 2014, in time for the FIFA World Cup, with Line 2 following in early 2017.