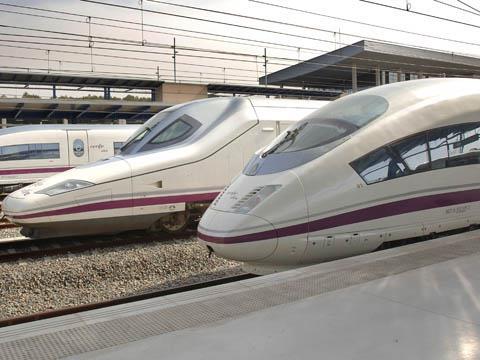 SPAIN: On April 3 Development Minister Íñigo de la Serna presented his department's budget for 2018, including rail spending of €4∙3bn which represents 48∙3% of total investment. According to ministry, the rail total is up 25∙6% on the year before.
During 2018, the Ministry of Development is planning to spend €923m on the Mediterranean Corridor programme to create a 1 435 mm gauge route between the French border and Algeciras, including the provision of dual gauge, new construction and improving rail access to ports. Further work on the high speed line between Madrid and Galicia in northwestern Spain has been allocated €757m, while €661m is to be spent on extending the high speed network to Asturias, Cantabria and the Basque Country.
The high speed project between Madrid and the Portuguese border at Badajoz is to receive €243m, including resignalling between Illescas and Navalmoral de la Mata. The 1 435 mm gauge connection between Atocha and Chamartín stations in Madrid has been allocated €186m, together with associated projects that include increasing capacity at Atocha and on the high speed line to Torrejón de Velasco.
On Spain's first high speed line between Madrid and Sevilla, which opened in 1992, spending of €73m has been budgeted for installing ETCS and track renewals.
On the conventional network, ADIF is planning to invest €848m in 2018, an increase of 63∙1% on the year before. With the government aiming to increase the amount of freight moving by rail, major projects will include electrification between Salamanca and Fuentes de Oñoro, upgrading the Huesca — Canfranc route and the provision of 750 m long passing loops between Madrid and Barcelona.
A total of €576m has been allocated to investment in suburban networks across Spain. In addition to rolling stock, track renewals and station accessibility improvements, major projects will include the installation of ETCS in Madrid and Barcelona, the rail link to terminal T1 at Barcelona El Prat airport and resignalling between Buñol and Utiel in Valencia.