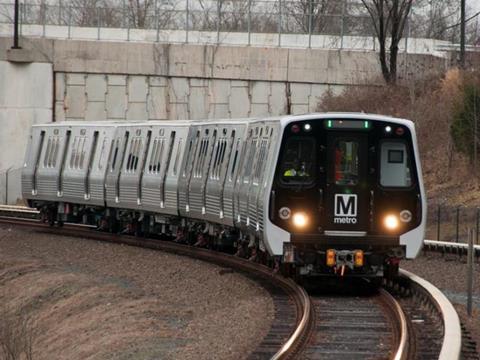 USA: The first 7000 Series trainset for the Washington metro was unveiled at Greenbelt station on January 6.
Washington Metropolitan Area Transit Authority ordered 428 cars from Kawasaki Rail Car for $886m in May 2010 and a further 100 in May 2013.
The initial cars are about to start system testing, which will inform Kawasaki's final design. Series production is expected to begin at Kawasaki's plant in Lincoln, Nebraska in mid-2014, with the first vehicles entering service in late 2014.
The stainless steel cars are 23 m long and 3 100 mm wide. They will operate as two four-car sets coupled together. Each trainset is equipped with event recorders, CCTV cameras and anti-climbers that help to keep cars upright in the event of a collision. There are two dynamic LCD route maps and four video screens in each car, as well as LED passenger information screens.
Metro General Manager and CEO Richard Sarles announced that as part of Metro's 2025 strategic plan, WMATA hopes to order a further 220 cars in 2015. By 2018, the majority of the fleet is expected to be comprised of 7000 Series cars.