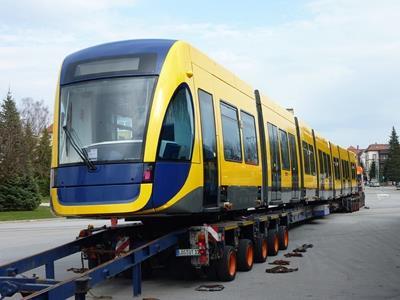 AUSTRALIA: The first of 14 Bombardier Flexity 2 trams for the Gold Coast light rail line has left the factory in Bautzen. Custom features of the 45 m long, seven-section vehicles include racks for surfboards.
Bombardier is part of the GoldlinQ consortium which the Queensland government selected in May 2011 to build and operate the Gold Coast light rail line. Bombardier's A$248m share of the A$1bn contract includes rolling stock, signalling, control and communication systems and electrification. Bombardier will also provide vehicle maintenance for 15 years. KDR Gold Coast will be responsible for infrastructure maintenance. The other partners in the consortium are McConnell Dowell Constructors (Aust) Pty Ltd and Plenary Group Pty Ltd.
The 13 km light rail line will link University Hospital and Broadbeach, with 16 stations. It is due to be completed next year.