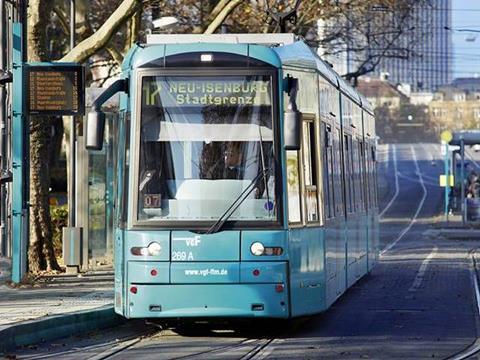 GERMANY: A 1·1 km tram link along Stresemannallee in Frankfurt am Main opened on December 13 with celebrations and a weekend of free trips on heritage trams.
The connection from Gartenstraße to Mörfelder Landstraße enables services on Route 17 to run from Hauptbahnhof to the suburb of Neu-Isenberg at the city's southern border. The Mörfelder Landstraße – Neu-Isenberg section was previously operated as the southern end of Route 14, which now terminates at Louisa. An intermediate stop provides interchange with S-Bahn Line S3 at Stresemannallee station, and there is 600 m of grass track.
Services run every 10 min on weekdays, with 7½ min headways between 07.30 and 08.30. Weekend services run every 15 min.
Construction began in January 2014 and cost an estimated €20m. Stresemannallee is being remodelled as part of the project, with new cycle lanes being built. Remodelling is due to be completed in mid-2015.