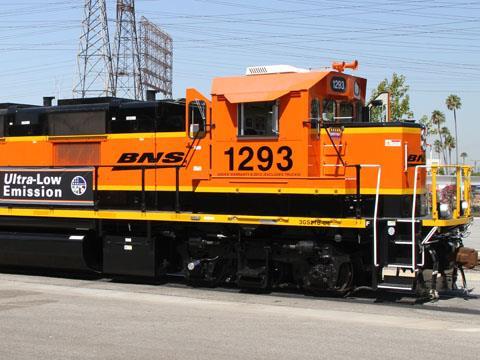 USA: California Governor Arnold Schwarzenegger visited BNSF's Commerce maintenance depot in Los Angeles on August 16 for a ceremony to mark the entry into service of two rebuilt genset locos for in the city's port area.
He was joined at the event by Pennyslvania's Governor Ed Rendell, who co-chairs the Building America's Future coalition, and Los Angeles Mayor Antonio Villaraigosa. The two governors used the occasion to emphasise the need for continued investment in rail, both to stimulate the US economy and support environmental initiatives.
BNSF Executive Vice President Roger Nober said the railway was buying N-ViroMotive GenSet switchers from National Railway Equipment Co for use in Southern California for $16m, of which $9m is coming from federal stimulus grants. The remanufactured gensets are expected to be around 40% more fuel-efficient than the 1970s-built locos they will replace, as well as cutting NOx emissions by around 80% and particulates by 90%. BNSF now has a total of 74 genset shunters operating in Texas and California.