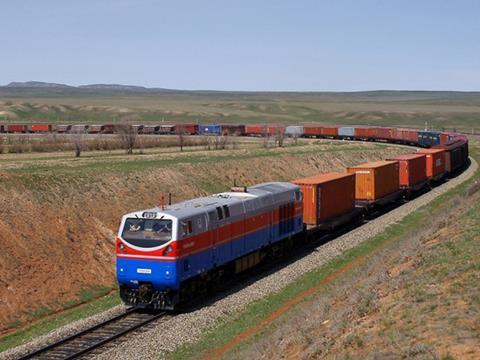 INTERNATIONAL: China and the Gulf Co-Operation Council member states are discussing accession to the COTIF convention, which provides a legal framework for the operation of international rail traffic.
China's interest is related to the growth of east-west freight traffic to and from Europe. Its accession would be politically significant for the Intergovernmental Organisation for International Carriage by Rail which manages COTIF, the head of OTIF's Technical Interoperability Department Bas Leermakers told Railway Gazette International at the EUMedRail conference on April 24. OTIF has traditionally had its roots in western Europe, and while it works on a principle of 'one country, one vote', China could have significant influence.
The GCC states are interested in accession because they will need to establish a suitable legal framework as rail networks in the region expand and eventually connect, and COTIF provides ready-made system proven in Europe and elsewhere over 125 years.
COTIF is also working on a new appendix governing safety. This would be compatible with EU requirements, enabling countries which neighbour EU member states to align themselves with members. It could also be of use to countries further afield looking to standardise.
OTIF and the Universal Postal Union have formed a working group to develop rules for carrying postal traffic by rail.
Leermakers said the legal frameworks governing other modes of transport, including air and shipping, have specific exclusions for postal traffic, which is transported under the UPU's dedicated rules rather than mode-specific ones. This affects issues such as customs inspection. However, COTIF does not have this exemption, complicating the carriage of post by rail. Changing the convention would be complex, and so the group is studying possible options.
The current legal framework is not in practice hindering growth in the sector, Leermakers said, with the boom in e-commerce generating significant parcels traffic between China and Europe.
The UK is likely to play a more active role in OTIF following Brexit, Leermakers believes, as it will no longer be subject to agreements which grant the EU the legal competence to act on behalf of its member states in certain aspects of COTIF decision-making.