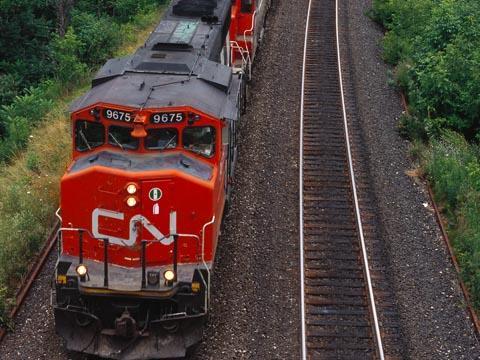 CANADA: Canadian National announced a 2013 capital investment programme worth C$1·9bn on February 5, an increase on the C$1·8bn spent during 2012.
More than C$1bn is allocated for infrastructure works, with projects including siding extensions in northern British Columbia, Alberta and northern Ontario, double tracking in Saskatchewan and adding signals on CN's Alberta main line. There are to be improvements to Kirk Yard in Gary, Indiana, and the former Elgin, Joliet & Eastern Railway line, as well as an increase in yard capacity at Baton Rouge in Louisiana.
Approximately C$700m will be spent to help grow the business, with IT upgrades, construction of an intermodal terminal in Joliet, Illinois, and completion of the Calgary Logistics Park.
CN plans to invest C$200m in the acquisition and refurbishment of locomotives, wagons and intermodal equipment. It expects to take delivery of 40 new and 37 second-hand high-horsepower locomotives over the next 24 months, having acquired 25 new and 123 used locomotives during the past year.
'Infrastructure investments, the acquisition of new locomotives and equipment and the enhancement of information technology systems will help support our agenda of operational and service excellence', said President & CEO Claude Mongeau. 'They will also make our customers more competitive in domestic and global markets and position us to maximise further business opportunities in intermodal, energy and other resource and manufacturing markets in 2013 and beyond.'