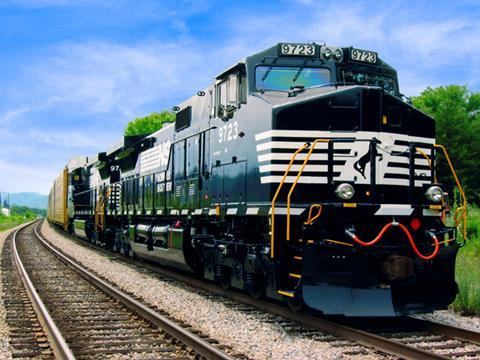 USA: A $2bn investment programme for 2013 was announced by Norfolk Southern on January 28. 'Our capital plan will maintain the safety and quality of our existing franchise, improve service quality and performance, achieve operational efficiencies and productivity improvements and support business growth,' said CEO Wick Moorman.
The largest expenditure will be $831m for infrastructure works including track maintenance and renewal and bridge replacement on the 32 000 km network, which serves 22 states and the District of Columbia.
NS has allocated $420m for acquisition of new locomotives and modernisation of its existing fleet, including rebodying coal wagons, acquiring multilevel automotive wagons and purchasing containers and flat cars.
Facilities and terminals are allocated $203m, including an on-going project to expand Bellevue yard in Ohio; construction of an intermodal terminal in Charlotte, North Carolina, as part of the Crescent Corridor initiative and completion of a locomotive servicing facility in Conway, Pennsylvania.
NS plans to spend $84m to increase infrastructure capacity and contribute to public-private partnership projects such as CREATE in Chicago and the Crescent Corridor.
Technology investments of $57m will include upgraded systems to enhance safety, efficiency and equipment utilisation.
NS has allocated $229m, about 11% of the 2013 budget, for the federally-mandated implementation of Positive Train Control.