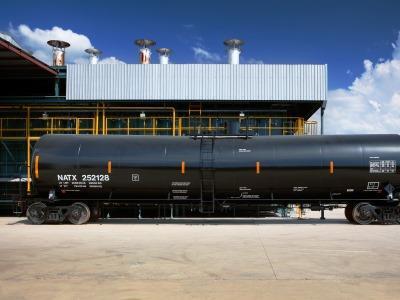 USA: Announcing provisional orders from 'multiple customers' for an initial 3 500 of its Tank Car of the Future flammable products wagons on June 19, Chairman & CEO of The Greenbrier Companies William Furman warned that government regulation must not delay the implementation of new design standards or impede the use of rail to carry hazardous commodities.
Furman said the US Department of Transportation 'should unbundle the rules related to tank car design standards from regulations related to railroad operating requirements'. Focusing on operating restrictions risks delaying the implementation of safer design standards, and Furman believes 'the most important action to foster the safer transportation of hazardous materials by rail is to ensure properly classified commodities are shipped in the best-designed tank car.'
The Tank Car of the Future incorporates features designed to inhibit spillage during a derailment, reduce penetration of the tank and slow fires. Furman said its customers' commitments to buying the wagons demonstrates 'the willingness of the marketplace to act and respect the need for enhanced safety measures'; there is also 'strong interest' in retrofitting older wagons. Greenbrier estimates that replacing or retrofitting the North American fleet of older DOT-111 tank wagons would cost $3bn and could be completed within five years.
However Furman said the process for setting safety rules 'must take caution not to squelch or impede the economic miracle associated with the energy renaissance in North America', adding that the 'transportation of oil by rail and barge must be maintained by policy makers as an effective alternative to pipelines if we are to realise the full benefits of our domestic energy windfall'.