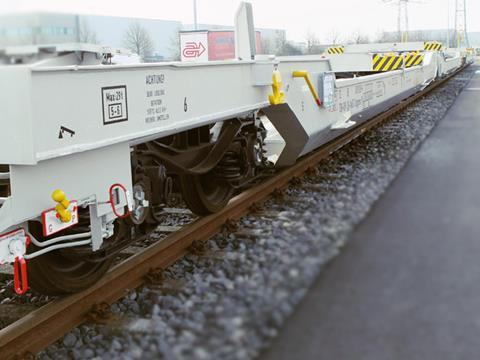 EUROPE: Wagon leasing company AAE announced on June 6 that open access freight operator ERS Railways had become the first major customer for its Twin II intermodal wagon. AAE CEO Karsten Sachsenröder and ERS Railways Managing Director Frank Schuhholz sealed a long-term contract covering the lease of 50 twin-unit wagons 'by handshake' during the Transport Logistics trade fair in München where AAE had unveiled the new design.
Sachsenröder said that AAE was pleased to have secured its long-time partner ERS as the first large customer 'for the new generation of low-noise, high-performance and low-maintenance pocket wagons', developed in-house by the leasing company. Amongst the technical advantages of the Twin II, Schuhholz highlighted a weight saving of 2 tonnes on existing wagons, as well as disc brakes halving noise emissions and reducing maintenance requirements as they 'do not roughen the wheelsets'.
Each unit of the Twin II can accommodate one road semi-trailer (including mega-trailers), a swap body up to 13⋅6 m in length, a 30 ft, 40 ft or 45 ft container or two 20 ft containers. With a maximum load of 100 tonnes, the type Sdggms(s)-D wagon measures 34 030 mm over buffers and can operate at up to 120 km/h.
A subsidiary of Danish shipping group AP Møller-Maersk, ERS has agreed to lease half of the initial build of 100 Twin II wagons which represents an investment of €20m by AAE. Deliveries are due to begin in November for completion in the second quarter of 2013. 'We knew that the market was waiting for these vehicles and thus have secured options for several hundred additional wagons', said Sachsenröder.