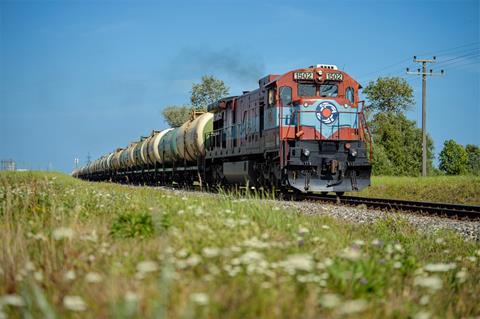 ESTONIA: State-owned freight operator Operail is developing a comprehensive strategy to restore its profitability, having been hit by a 83% reduction in volumes because of the Russian war against Ukraine.
The strategy is expected to be finalised by autumn, and the company says that once its economic position improves there is the potential for privatisation.
Operail carried 6·6 million tonnes in Estonia in the first half of 2021, compared to 3·6 million tonnes in H1 2022 and just 1·1 million tonnes in H1 2023.
Ìt said the 'drastic' decline was the result of sanctions imposed on Russia and Belarus in 2022 and the decision of the Estonia government, as its shareholder, to halt all transport of goods from Russia and Belarus from 2023, including goods which are not subject to sanctions.
'While such a decision sends a powerful message that Operail does not support the aggressor in any way, it inevitably grants a significant business advantage to competitors who persist in transporting Russian and Belarusian goods', said the company's CEO Raul Toomsalu on August 18.
EBITDA for the first six months of 2023 was €0·2m, with a net loss of €3·1m, but Operail said it has a financial cushion from the proceeds of the sale of its Finnish and wagon leasing activities which the government had deemed non-strategic.
'We anticipated a loss in the first half of the year because railway transport is a volume-driven business that thrives on the ability to transport large quantities simultaneously', said Toomsalu. 'It's challenging to operate profitably with a reduced volume and to cut costs at the same rate.'
There were also one-off expenses associated with the decision to reduce the workforce by half. 'Carrying out layoffs on such a large scale has been a daunting task because we are dealing with specialists with expertise in railway operations', said Toomsalu. 'It is crucial to retain the expertise to potentially restore volumes in the future.'