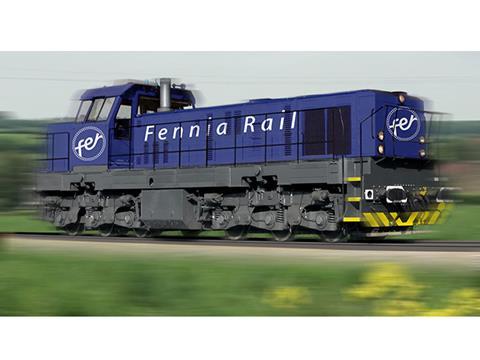 FINLAND: Privately-owned company Fennia Rail has ordered three diesel locomotives from Czech supplier CZ Loko to support its plans to launch open access freight services in southern Finland by the end of 2015.
Fennia Rail is currently negotiating with potential customers in the forest products sector, and hopes to be able to undercut state-owned VR which is currently the only operator on the 1524 mm gauge national network.
Founded in 2005 and formerly known as Proxion Train, Fennia Rail is owned by a group of Finnish companies and private investors. Chairman Petri Lempiäinen said the its operations would be 'based on environmental friendliness, safety and economic efficiency', and offer 'a competitive mode of transport for Finnish industries', including direct links to ports.
Fennia Rail said the CZ Loko Type 774.7F single-cab locomotives would offer 'the highest traction capacity and lowest emissions of any diesel locomotive in Finland'. The 1 550 kW six-axle locomotives will have Caterpillar engines, a maximum speed of 90 km/h and a 20 tonne axleload. The order is worth €6·5m, including train protection equipment.